StreamYard is one of the leading platforms out there when it comes to live streaming. But, the software has certain limitations to it. For instance, it offers live streaming for upto 20 hours for free users and allows multistreaming for nine destinations. This has led to streamers looking for StreamYard alternatives. Are you one of them too? Then, you have come to the right place. Today, we have brought to you the 5 best StreamYard alternatives to watch out for.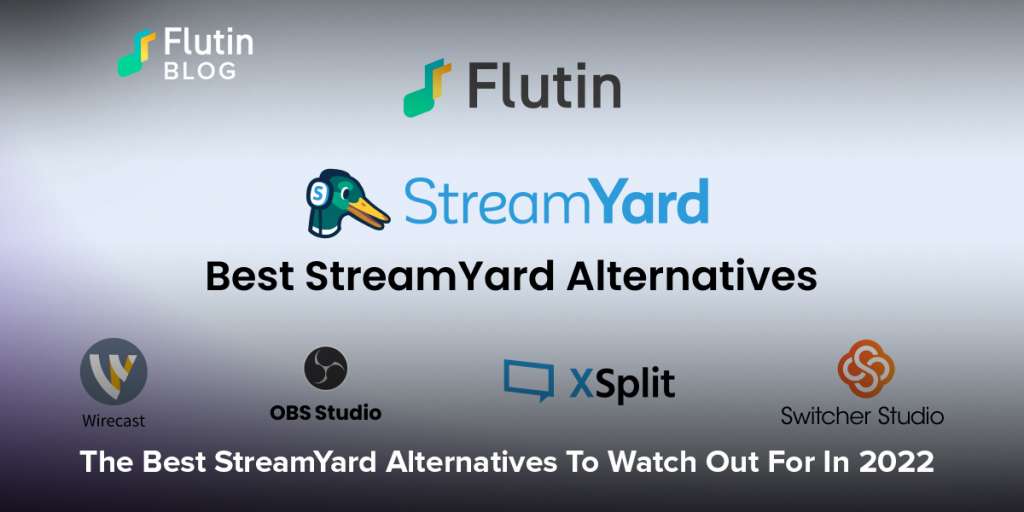 Increasing your reach is one of the best ways to grow as a live streamer. Simulcasting, also known as multi-streaming, is one way to expand your reach. It's nothing but broadcasting your streams to multiple platforms (like YouTube, Facebook, Instagram, etc.) simultaneously. Despite being a good option, StreamYard is mainly focused on multistreaming and lacks additional features that you may require. We've got you covered if you're interested in a platform that helps with multi-streaming and may provide extra features that can enhance your streams. Below are the 5 best StreamYard alternatives to help with everything you need.
1. Flutin

Flutin is the platform that has created all the buzz since its inception and for all the right reasons. The platform has revolutionized the streaming game and brought never-before imagined features into the radar of streamers. Aimed at empowering content creators with all the tools they need to have their unmatched voice and mark in the world, there are only wins and no losses with this platform. Some of the most salient features offered by Flutin are as below:
Multistreaming : With Flutin, streamers can simultaneously reach multiple platforms' audiences. It is possible to multistream on platforms such as YouTube, Facebook, Twitch, Instagram, Twitter, and more. Furthermore, a multi-chat feature allows you to view all of your multi-channel comments in one place.

RTMP Streaming : Flutin also supports RTMP streaming. The smooth transmission of HD video and minimal latency of this type of streaming ensure the best viewing experience.
Monetization : With Flutin, making money from streams is easier and more fun. You can accept virtual gifts and donations of any amount from viewers. Fans can also buy tickets for your live show and pin their comments and requests on top by paying a certain amount.
Pre-recorded Streaming : In Flutin, users can stream pre-recorded videos. This is exactly what it sounds like – you just prepare your videos beforehand and broadcast them live.
Scheduled Streaming : Flutin lets you schedule your streams way in advance so you have time to prepare accordingly and your audience knows when and where to catch you live so they don't miss out.
Customization : With custom logos, video captions and live ticker, live streaming is way more engaging with Flutin.
Chat Highlighting : You can now highlight the comment you are responding to while live streaming so viewers know what you are talking about.
Sub-accounts : Flutin lets you have multiple secondary accounts under your primary one, so you can have multiple accounts related to the different talents you have or the different products you offer.
2. OBS

Live streaming of your videos can be done using Open Broadcaster Software (OBS), an alternative to StreamYard. With this free and open-source solution, you will enjoy uninterrupted, free access and the freedom to customize your streams. Streaming parameters are completely under your control with OBS Studio. Video broadcasts can be edited and tweaked to make them more immersive for your audience. Video filters, noise reduction, custom transitions, and an audio mixer are among the digital editing tools it includes. There are also tools for capturing live audio and video, and creating scenes using various sources, such as text, images, webcams, and window captures.
Compatibility: You can install OBS on a Mac, Windows, or Linux computer. The Windows Vista version of OBS Studio is no longer supported.
3. XSplit

The XSplit video streaming and recording tool offer an alternative to StreamYard for experts. Live events, presentations, and gaming can all be done with it. With over 15 million users, it is among the most reliable video streaming software. Broadcasting over the phone is also possible with XSplit. Whenever you wish to show off your presentations, stream a live stream, or make a conference call, you can easily use your smartphone as a webcam – a great option for those who are away from their computers or on the go. Adding voice overs, notes, and images to your screen can be done in minutes and then shared as a link. Using the software simplifies the process.
Compatibility: Windows is the only operating system compatible with XSplit. Currently, it is incompatible with macOS, but a macOS version will be released soon.
4. Switcher Studio

You can create, edit, and stream live video right from your iPhone or iPad, no matter where you are. With Switcher Studio, you can switch between up to 9 cameras – including those of remote guests – edit them, and add graphics. A live broadcast can be recorded and streamed using multiple iPhones and iPads using the platform, which also supports graphics overlays, multi-view effects, and more. You can stream video in real-time to numerous platforms simultaneously using Switcher, which has built-in integrations with YouTube, Facebook, Twitch and LinkedIn.
Compatibility: iOS devices, such as iPads and iPhones, are the only ones that can run Switcher Studio. However, using Switcher Cast and the Remote Guest feature, you can share screens and webcams from computers or external devices.
5. Wirecast

On-demand broadcasts are easy with Wirecast. Your videos can be streamed and shared worldwide. Build a community of loyal audiences by sharing brand stories with this tool. Any content can be delivered to a live audience, no matter where they are. With its rich features, you can stream live videos on TV quality. There is multitrack audio recording as well as baseband HDMI/DI outputs and secondary display outputs along with NDI program outputs. It has five main mixing layers, a built-in transition, and a maximum project and recording resolution of 4096 x 3072, compared with StreamYard's 3060 x 3072.
Compatibility: Both macOS and Windows are supported by Wirecast.
To be an effective live streamer, you need to explore all of the different tools available to you, including multi-streaming tools. Check out Flutin and explore a vast range of intuitive features to fall in love with live streaming all over again.
Related Topics
Join our official streaming community and get tips to improve your social presence, hacks to increase brand engagement and generate more revenue.