Why should brands pay attention to the quality of live streaming events? For starters, the quality of your live stream can greatly impact the overall experience of the audience. A poor quality live stream could frustrate your viewers, negatively impacting engagement and viewership. On the other hand, a high quality live stream could create a more immersive experience for your viewers, driving engagement and overall satisfaction. More importantly, the quality of live streaming events conveys the professionalism of the organizers, which can have a positive impact on the reputation of your brand and future success.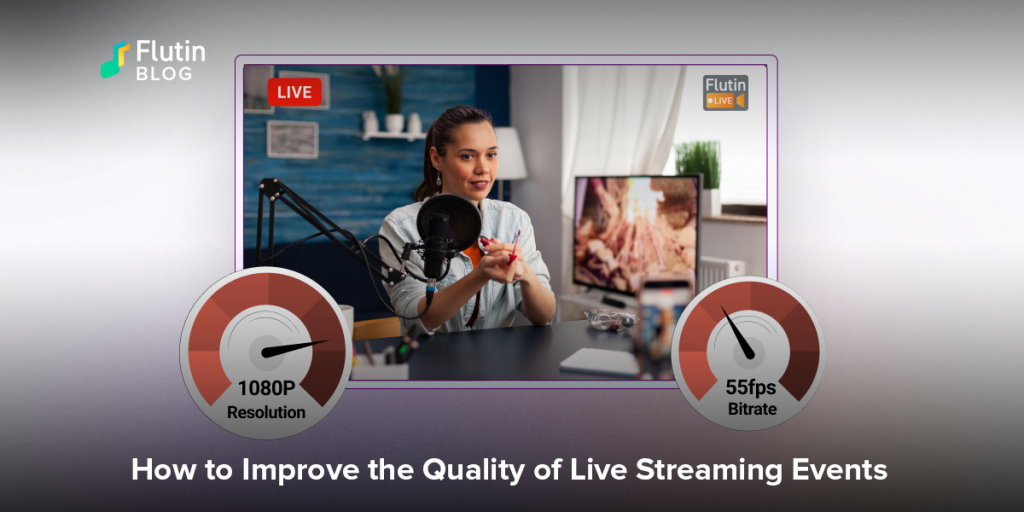 So, how do you enhance the quality of live streaming events? In this post, we'll discuss seven tips that will enhance the quality of your live stream event and also make it a success. Let's get started.
Top 7 Tips to Enhance the Quality of Live Streaming Events
Live streaming is no longer a novelty concept and has gained immense popularity worldwide. It is widely used in entertainment, education, gaming, sports, news and media, and several other industries.
There are various live streaming statistics that clearly depict its soaring popularity.
According to Grand View Research, the global live streaming pay-per-view market is expected to grow at a 15% CAGR, reaching nearly $2.3 billion by 2027. This doesn't even include the free live streaming stats.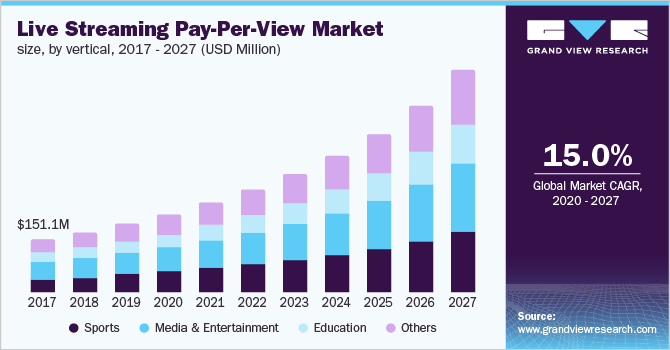 Image via Grand View Research
Thanks to social media and video sharing platforms, it's now easier than ever to broadcast your message to a global audience. However, with this ease of access comes the need for high-quality production value. A poorly executed live stream can put off viewers and damage your brand.
Here are 7 practical tips to increase the quality of your live streaming events.
1. Use High Quality Equipment and Tools
Having high quality equipment is non-negotiable if you want to improve the quality of your live streaming events.
Most people who organize webinars or sell online courses often make the mistake of using cheap equipment. Using your laptop camera is great for video conferencing with your colleagues or chatting with friends. However, it is definitely not the right choice for professional live streaming events.
For high quality streaming, you need professional-grade equipment that records high resolution videos without any lag. Your microphone should be able to pick up clear sound, while eliminating background noise.
Consider investing in high quality cameras, microphones, and lighting setup. These components will have a huge impact on the overall production value of your live stream.
The popularity of live streaming events has been a key driver behind the growth of the live streaming video and camera market. It is expected to reach $2.5 billion by 2028.
Image via Research Nester
To ensure stability and to keep your camera in the desired frame, we also recommend getting the best tripods in the market.
What's more?
Along with the right equipment, it is also crucial that you have the right tech stack to ensure that your live streaming events are a success.
To enhance the quality of your live streaming events, you will also need to invest in loads of marketing tools. These include the likes of social media scheduling tools and designing tools that can help you promote your event in advance.
In addition, you'll need reliable best webinar platforms that can help you broadcast your live event to a vast audience.
2. Test Your Internet Connection
A stable internet connection is crucial for a successful live stream. You also need to have adequate internet speed to sustain the streaming.
Test your connection beforehand to ensure that you have sufficient bandwidth and speed to broadcast your stream. A weak internet connection could cause buffering or other issues that can negatively impact the viewing experience.
Just type in "Internet speed test" and Google will display a built-in tool to test your upload and download speeds.
Image via Google
Pay attention to the upload speed to enhance the quality of live streaming events.
We recommend ethernet over Wifi, since Wifi signals may be unstable. If you have no other option other than Wifi, get close to the router to ensure you have an uninterrupted internet connection.
Don't open unnecessary apps or web browsers during the live stream to prevent them from eating into the bandwidth. Likewise, remove other devices from the network to save on bandwidth.
3. Choose the Right Streaming Platform
Choosing the right live streaming platform could make a world of difference to the quality of your live streaming events. There are many live streaming platforms available in the market, each with their own features and limitations.
Flutin is one of the best live video streaming platforms to monetize and multistream your live streams to social media and other platforms.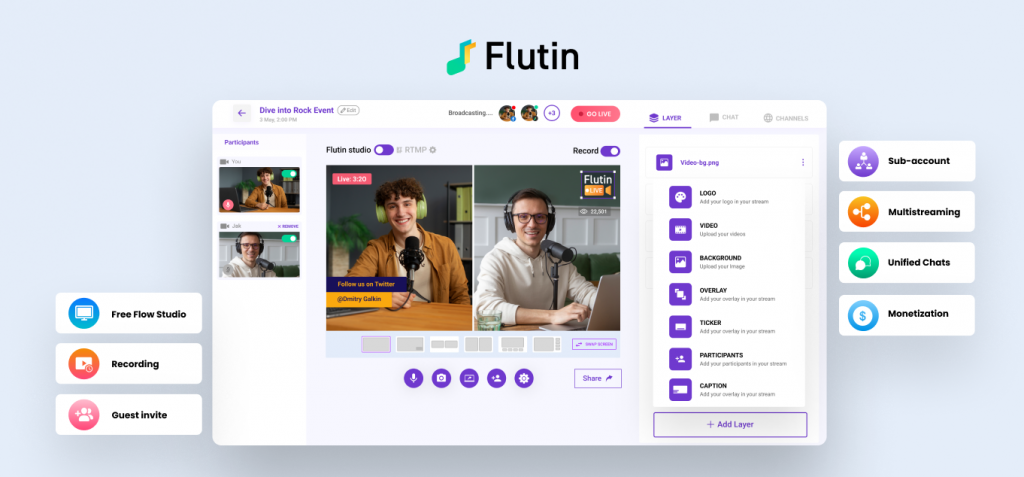 Yes, you could live stream over most social media platforms too. However, the functionality and monetization options are often limited and do not serve the needs of businesses looking for a professional solution.
So, make sure you analyze your needs and pick a platform that best suits your needs and budget. When choosing a platform consider factors such as ease of use, the ability to monetize your live stream, the maximum audience size it can handle, and so on.
4. Choose an Appropriate Video Codec
Choosing the right video codec is also important to maintain the quality of your live streaming events.
A video codec is basically a software that compresses and decompresses digital video data. When the compressed video is received by a device, another codec is used to decompress the data and recreate the original video.
Here's how video codecs work.
Image via Brid.TV
The choice of video codec and its settings could have a major impact on different aspects of video quality, such as resolution, frame rate, and so on.
Don't forget to optimize the compression ratio too. A higher compression ratio may give you a smaller file size, but it may also lead to poor video quality. For live streams, this may lead to lower resolution and blurring.
Latency is another important factor when choosing the right video codec.
H.264 is one of the most popular video codecs used for recording, compressing, and transmitting video on the Internet.
It has a lower latency than most other codecs available in the market. What it means is that video data can be encoded and decoded quickly, reducing the delay between the live event and its delivery to the viewer.
5. Practice Good Lighting
Lighting is important for the simple reason that it allows your viewers to see you clearly. It illuminates your face and your surroundings, making it easier for them to connect with you and understand what you are saying.
Lighting can also set the mood and tone of your live stream.
For instance, if you are live streaming a cooking show, you may want to use warm lighting to make your viewers feel cozier and comfortable.
However, if you are doing a finance live stream, such as explaining how to manage business expenses, you may want to use a cool, white light to look more professional and polished.
Having a well-lit setup indicates that you have put effort into your production quality to make your live stream more visually appealing.
And the best part about doing this?
Once the live stream event is over, you can reuse the video and publish it on social media. You need to make your live stream video more effective by adding subtitles, musics, special effects, etc.
For this, you can use professional video editing software such as Movavi Video Editor, and Animoto to edit your live stream video and publish it online for better results. The lighting only helps in this cause.
6. Pay Attention to Sound Quality
Until now, we have talked about the importance of video quality in maintaining the quality of live streaming events. However, sound quality is just as important, if not more.
Your viewers would be able to understand you only when they can clearly hear what is being said. If the sound is too low or muffled, it can become very difficult for your viewers to follow your content.
High quality sound may also create a more immersive experience for your viewers. A great sound mix could make them feel as if they are at the live event themselves, as a part of the action.
The ultimate goal of a live stream is to engage and retain viewers. You want to turn them into brand ambassadors. Great sound quality can help you enhance your overall brand image by appearing more professional, increasing the chances of your viewers turning into your brand advocates.
We strongly recommend investing in a good microphone or audio setup to ensure that your voice comes through loud and clear. Finally, stream from a place where there are minimal background noises to prevent your viewers from getting distracted.
7. Be Prepared for Technical Difficulties
Brands, nowadays, are using live streaming for a lot of things, from product launches to broadcasting events and revenue generation.
Despite all your efforts, the quality of live streaming events may be affected by unexpected technical difficulties.
So the best tip is to always be prepared.
Ensure that you test your streaming setup thoroughly before going live. We recommend running a test stream to check for latency and other similar issues.
It's always a good practice to check your camera, microphone, and internet connection. Don't forget to check the video and sound quality to ensure that they are optimal.
Always have a backup plan for any technical issues that may arise. This could include a different device to stream from or an alternative platform.
Conclusion
The above tips truly work when it comes to improving the quality of live streaming events. Follow them to boost the overall experience of your viewers, resulting in higher engagement and satisfaction. So, go ahead and start creating successful events.
Related Topics
Join our official streaming community and get tips to improve your social presence, hacks to increase brand engagement and generate more revenue.