Businesses nowadays communicate with their clients, customers, and employees far differently than before. Nowadays, video has become the king of communications of all kinds, from internal to external messages. And that's where live video streaming comes important.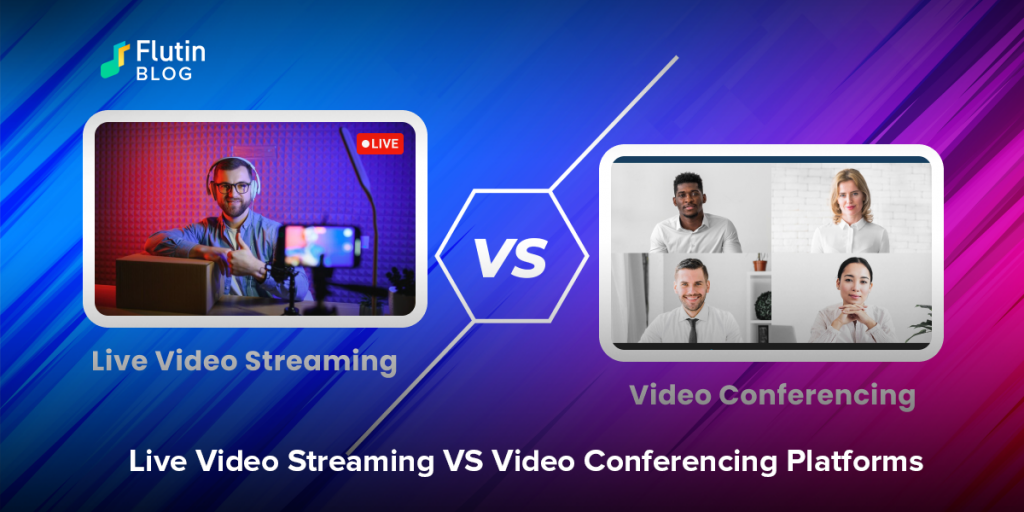 82% of global traffic came from video content in 2022. And at the core of that, people have been using live video streaming and video conferencing to communicate in real-time with individuals worldwide. And while there are many overlaps, there are some key differences between both forms of communication. Moreover, each one offers various benefits and drawbacks.
To help you decide which platform is ideal for your particular needs, we'll look at 10 benefits and drawbacks of these platforms for businesses. Check this before you visit the best sites for live streaming or video conferencing.
Live Video Streaming VS Video Conferencing: What's the Difference?
Live video streaming and video conferences have some key similarities. Both happen in real-time and tap into the power of interactive video media. But there are also some key differences.
Video conferencing is a two-way communication between a small group of individuals. In contrast, live video streaming is the practice of broadcasting live video material to a large audience.
In the next sections, we look at the advantages of both live video formats so you can decide which one you should use.
Advantages of Live Video Streaming for Businesses
✅ Wide Audience Reach for Live Streams
One benefit of live video streaming for businesses is the ability to quickly and effectively communicate with a wide and diversified audience.
Businesses may engage with customers worldwide and raise awareness through live video streaming. This can result in increased interaction, internet traffic, and purchases.
✅ Increased Engagement on Live Video Streaming
Live video streaming enables companies to interact with their audience in real-time, answer questions, and reply to comments.
As a result, there is a sense of belonging among the audience and a closer connection between the company and them, which boosts engagement and brand loyalty.
✅ Easy Accessibility
Live video streaming eliminates the need for travel. It offers an accessible alternative for individuals to participate in events, seminars, or even live stream online classes, in contrast to conventional location-based events.
Businesses can reach a larger audience and increase their consumer base as a result.
✅ Cost-Effective Streams
Cost-effectiveness eliminates the requirement for pricey travel, venue rentals, and other related expenses. Live video streaming allows companies to do conferences, seminars, and product debuts for a fraction of the price of more conventional techniques.
This enables organizations of different sizes and financial constraints to afford it. By leveraging social media to promote their live video broadcasts, businesses save on their marketing and advertising expenses.
✅ Scalability
Live video streaming allows for a limitless number of spectators, unlike physical events constrained by the space available. It is, therefore, the best choice for companies that need to scale their operations swiftly or for those who are expanding quickly.
Companies quickly improve their video streaming setup to accommodate their growing customer base.
Advantages of Video Conferencing Platforms for Businesses
✅ Real-Time & Live Interaction
Real-time interaction enables prompt and individualized contact with distant coworkers, clients, or partners. With video conferencing, organizations can collaborate and have in-person discussions wherever they are, which makes it a practical and effective choice.
Businesses can make choices, offer feedback, and address problems quickly thanks to real-time engagement, boosting output and hastening project completion.
✅ Personalized Communication
Personalized communication enables more relaxed and intimate relationships between individuals. It helps establish trust and rapport when participants interpret one another's facial expressions and body language.
The ability to share screens and work collaboratively is another feature of video conferencing services that will increase the efficacy and efficiency of meetings. Personalized communication through video conferencing can assist in improving corporate outcomes and relationships.
✅ Increased Collaboration
Platforms for video conferences enable users to share displays and files and work together on projects in real-time. This can aid in facilitating brainstorming sessions and problem-solving, which can enhance corporate outcomes.
Virtual breakout rooms are another feature offered by video conferencing services. Teams can use these rooms for more intimate meetings or smaller group discussions.
Regardless of geography, more teamwork and higher production can result from increased communication through video conferencing.
✅ Enhanced Security Features
Enhanced security features assist in safeguarding private communications and sensitive data. End-to-end encryption, multi-factor authentication, and password protection offer to assist in preventing unwanted access to or interception of video calls.
They assure organizations that their communications and data are secure, which is crucial for sectors with stringent compliance regulations or worries about confidentiality.
✅ Flexibility
Participants can attend meetings remotely or on the go thanks to video conferencing technologies, which do away with the requirement for actual travel. Thanks to this, businesses collaborate with people or teams worldwide, saving them time and money on trip expenditures.
Video conferencing solutions enable the scheduling and joining of meetings at any time, facilitating collaboration between participants in various time zones.
What's the Best Alternative for Online Learning?
For online learning, both of these options have their own pros and cons. Live streaming might be a better option if you want to provide an open learning experience. When it comes to online classes, live streaming tools like Flutin can be a valuable option.
Flutin offers several benefits for live streaming educational content, like:
It provides a platform for open learning experiences like free webinars, allowing educators to reach a wide audience and engage with them in real-time.
Flutin also supports multistreaming, which means you can simultaneously broadcast your classes on multiple platforms, expanding your reach even further.

Flutin offers easy accessibility, enabling learners to participate in classes remotely without the need for physical travel.
Flutin's live streaming capabilities foster increased engagement through interactive features such as live chat, allowing learners to ask questions and engage in discussions during the class.
Overall, Flutin and similar live streaming tools can enhance the online learning experience by providing a convenient and interactive platform for educators and learners to connect and share. You can learn more about it by click here.
Alternatively, a video conferencing app will give you more privacy, which is great for exclusive training or gated content.
In cases where you might want on-demand video content, you can look into alternative LMS systems that let you upload video courses for people to watch in their own time. This gives your learners an opportunity to control their own time when watching videos.
If you need a learning management system, check an LMS comparison to find the best solution for you.
Choose the Best Format for Your Context
Both live video streaming and video conferencing platforms offer unique advantages to businesses. Live streaming is great for broadcasting events to a large audience, while video conferencing is better for team collaboration and communication.
Businesses should consider their needs and goals before choosing which platform to use. Ultimately, the success of a business's video strategy will depend on its ability to adapt and integrate these tools effectively into its overall communication and marketing plans.
Conclusion
In conclusion, the emergence of video as a dominant communication medium has revolutionized how businesses connect with clients, customers, and employees. Live video streaming and video conferencing offer unique advantages.
When it comes to online learning, live streaming tools like Flutin offer open learning experiences, multistreaming capabilities, easy accessibility, and interactive features, while video conferencing platforms provide privacy and real-time personalized communication. Choosing the appropriate format depends on specific needs, goals, and preferences, and successful integration of these tools into overall communication and marketing strategies can drive meaningful connections and foster growth in the digital age.
Related Topics
Join our official streaming community and get tips to improve your social presence, hacks to increase brand engagement and generate more revenue.