Content creators or brands can benefit greatly from live streaming. Their virtual presence is aligned with their goals, and it helps them engage with their audience in real time. However, live streaming is easier said than done. A lot of time and effort goes into building a successful streaming career from scratch. Besides, it also involves considerable investment in equipment. Fortunately, when it comes to live streaming platforms, you don't have to worry about the monetary aspects, thanks to these free live streaming platforms. Read on to discover our picks for the best platforms to live stream free.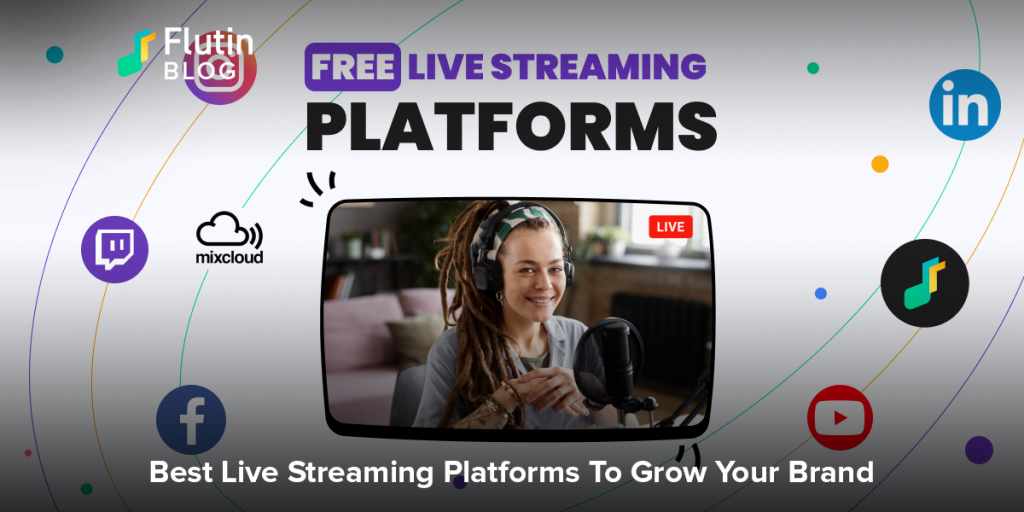 Wouldn't it be great if you could live stream free? There are multiple streaming platforms today that let their users stream free of charge and grow their online presence. The problem is that there are too many free live streaming software and picking one of them can be an overwhelming endeavour. To save you from trouble, we have put together a list of the best professional live streaming platforms.
What is a Live Streaming Platform?
A live streaming platform is an online service that allows you to live stream in real-time. Moreover, a live stream platform lets users to stream pre-recorded videos live on various social media platforms at the same time.
A live stream platform can be used for a variety of purposes, including entertainment, education, marketing, and more. It's an innovative and engaging way to engage with your audience and build a following online. Whether you're a content creator, influencer, or business owner, a live stream platform can help you reach a wider audience and build your brand.
With the rise of social media, Social live streaming platforms like Facebook Live, YouTube Live, Instagram Live, and Twitch have some unique features compared to dedicated live streaming platforms. The popularity of live streaming has grown rapidly, allowing users to connect with their viewers in real-time, interact with them through chat features, and share their experiences.
What Makes A Good live Streaming Platform?
Live streaming platforms allow you to broadcast live videos via a website, application, or software. The service should at the very least allows you to do live stream in real-time and managing content. Additionally, it should be able to offer basic services like Multistreaming to 30+ social media platforms, web embedding, Monetization, Pre-recorded streaming, Unified-chat functionality.
Here is a list of that things you should consider when choosing a live streaming platform :
Aligns with your goal: You should consider the purpose of your live streams. Are you using multistreaming platforms for entertainment, education, marketing, or something else entirely? Different platforms cater to different audiences, so it's important to choose one that aligns with your goals.
Features : Lookout for the features offered by each platform. Some platforms may offer advanced features like multi-camera support, graphics overlays, and chat moderation, while others may be more basic. Make a list of the features that are most important to you and compare them across platforms.
Cost: Some live streaming platforms offer free plans, while others require a monthly or annual subscription. Be sure to factor in any additional costs, such as fees for using certain features or for hosting large audiences.
Ease of use: Some platforms are designed to be user-friendly and intuitive, while others may have a steeper learning curve. Consider how much time you're willing to invest in learning the platform and whether you have the technical expertise to use it effectively.
Support: You should look for a platform that has a strong community and support system. A vibrant community can provide valuable feedback and support, while a responsive support team can help you troubleshoot any issues that arise.
Overall, choosing a live streaming platform requires careful consideration of your goals, features, cost, ease of use, and community. By taking the time to evaluate each option, you can find the platform that best meets your needs and helps you achieve your live streaming goals.
7 Best Live Streaming Platforms
1. Flutin
Flutin is a multistreaming platform that allows users to create a professional live videos and broadcast them to 30+ social media platforms simultaneously. But, what makes Flutin stand out are the numerous intuitive features that make a streamer's journey smooth and fun. Some of these useful features are as follows: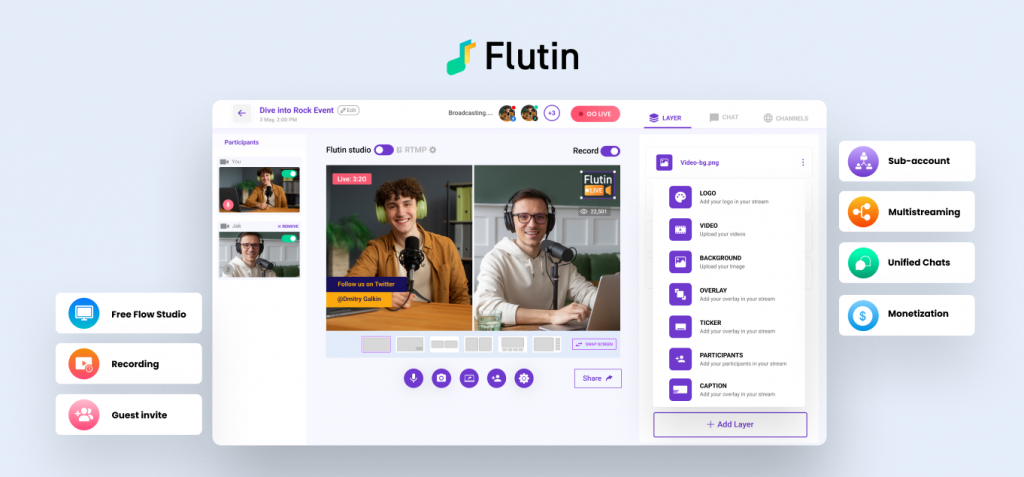 Monetization: With Flutin, making money from streams is easier and more fun. Your viewers can purchase virtual gifts and donate any amount of their choice. Fans can also pay a certain amount to place their comments and requests on top, and purchase live show tickets.
CNAME: With Flutin you can rebrand your public and event pages with your own custom domain of your choice instead of Flutin's default domain. Learn More how CNAME feature works on Flutin
Multistreaming: With Flutin, streamers can reach multiple platforms simultaneously and engage with their respective audiences. It is possible to multistream on a variety of social streaming platforms, including YouTube, Facebook, Twitch, Instagram, and more. Through a multi-chat feature, you'll be able to view all your multi-channel comments in one place so you won't miss anything.

RTMP Streaming: Flutin also supports RTMP streaming. With this type of streaming, HD videos are transmitted smoothly with minimal latency for optimal viewing.
Pre-recorded Streaming: Flutin makes it possible for users to stream pre-recorded video. Preparing your video content before broadcasting live is as simple as it sounds. In this way, you are free to show what you want in the video and present your brand's message the way you want.
Scheduled Streaming: It is also possible to schedule and publish events using Flutin. Simply enter the details of the event and set the time and date. The timed stream ensures that people are available during your stream and that their calendars have been marked.
Chat Highlighting: Streamers often do not specify which comments they are responding to. As a solution to this problem, Flutin highlights the chat you respond to and lets everyone participate in it.
Customizations: Flutin allows you to customize your stream in multiple ways such as adding your own custom logos, video captions and tickers that scroll past the bottom of the screen.
Sub-accounts: Basically, you can have multiple secondary accounts in addition to a primary account. In this way, you can create a variety of sub-accounts under your main account. For example, sub-accounts can be created for each product or service you offer so that vital information about those products/services can be discussed via a particular account.
Web-embedding Widget: Flutin supports uploading live streams to websites as well. By doing so, you will be able to increase traffic to your website as well as convert more leads.
Facebook Event Publish: Flutin offers more than just multistreaming. Additionally, you can embed your live stream directly into your Facebook timeline. Your event details can be published directly to your Facebook profile after entering the necessary event details.
Zapier Integration: Over 4,000 apps are available on Zapier, making it the ultimate one-stop shop for apps. Flutin has now integrated with Zapier to improve the streaming experience by boosting viewership for streamers. Flutin, for example, can send email notifications as soon as you go live so all your subscribers don't miss it.
2. Livestream by Vimeo
Vimeo has emerged as a top platform for creators and businesses looking to engage with their communities through live video streaming. With Vimeo Livestream, users can broadcast high-quality video content across multiple streaming platforms and devices, giving them the ability to reach viewers wherever they are. From live events and conferences to product launches and educational webinars, Vimeo Livestream offers a range of features and tools to help users make the most out of their live video content. Whether you're a seasoned broadcaster or just getting started with livestreaming, Vimeo Livestream is a valuable tool that can help you connect with your audience in new and exciting ways.
platforms and devices, giving them the ability to reach viewers wherever they are. From live events and conferences to product launches and educational webinars, Vimeo Livestream offers a range of features and tools to help users make the most out of their live video content. Whether you're a seasoned broadcaster or just getting started with livestreaming, Vimeo Livestream is a valuable tool that can help you connect with your audience in new and exciting ways.
3. Wowza
Wowza is a powerful and versatile media server software that enables seamless live streaming and on-demand video delivery across a wide range of devices and platforms. Whether you are a content creator, broadcaster, or enterprise, Wowza's robust feature set and scalable architecture can help you deliver high-quality streaming experiences to your audience with ease. With its advanced functionality and flexible deployment options, Wowza has become a popular choice among businesses and organizations looking to optimize their video delivery workflows. In this article, we will explore the key features and benefits of Wowza, as well as its use cases and best practices for optimizing your streaming infrastructure. Whether you are just getting started with live streaming or looking to take your video delivery to the next level, Wowza has everything you need to succeed.
4. Dacast
Dacast is a robust and reliable video hosting and streaming platform that offers a complete solution for businesses of all sizes to manage and monetize their video content. Whether you're looking to create a live event, a video-on-demand channel, or a live linear channel, Dacast has all the features and tools you need to deliver high-quality content to your audience.
With Dacast, you can easily upload, manage, and distribute your videos across multiple streaming platforms, including websites, mobile devices, and social media. You can also customize your video player, add watermarks and captions, and integrate with third-party tools to enhance your viewers' experience.
What sets Dacast apart from other video hosting platforms is its powerful monetization tools. With Dacast, you can sell your videos on a pay-per-view basis, offer subscriptions, and even set up your own advertising network. Plus, Dacast's secure streaming and DRM protection ensure that your content is safe from piracy and unauthorized distribution.
If you're looking for a comprehensive video hosting and streaming solution that combines ease of use, customization, and monetization, then Dacast is definitely worth checking out.
5. Mixcloud
The live streaming website, Mixcloud, is primarily for musicians. The most prevalent categories of material on Mixcloud include live music, radio programmes, podcasts and DJ mixes. 20 million people listen to music on Mixcloud every month.
Since Mixcloud and major record companies have license arrangements, radio show hosts are free to play the music of their favourite artists without worrying about copyright violations. All of your live performances are also archived on the site so that viewers can watch them afterwards.
Free Social Live Streaming Platforms
Let's get into our list of the 5 best free social live stream platforms (in no particular order).
1. Facebook Live
Facebook has 2.7 billion monthly active users worldwide, making it the world's largest social media network. Millennials are Facebook's largest demographic.

If you're already active on Facebook, you may be able to build on an existing network. Some important features of this free live streaming platform- Facebook Live include monetization methods, live streaming from computers or mobile phones, streaming analytics, editing live video recordings, live chat and scheduled streaming. With Flutin, you can multistream to this social media giant seamlessly and expand your reach.
2. YouTube Live
YouTube has close to 2 billion active monthly users, which makes it one of the biggest streaming platforms out there. You can stream live on YouTube from anywhere in the world with an audience from all age groups. Up to 40% more subscribers were found for channels that live stream on a weekly basis on YouTube.

Along with this wide audience reach, YouTube offers powerful analytics and monetization options for live videos. Due to YouTube's role as a video storage platform, it saves a replay of each live stream so users can watch it at their convenience. You and your viewers can also chat during YouTube Live via the chat function.
3. Twitch
Any list of free live streaming platforms wouldn't be complete without mentioning Twitch. Globally, Twitch was viewed for 5.79 billion hours in Q3 of 2021. The platform allows users to stream live videos and replay previous broadcasts that are stored.

Twitch offers the most robust chat functionality among the major live streaming platforms. Streamers can make their chats more interactive by creating custom emotes, managing audience participation with bots, and receiving subscriptions (subs) or gifts. Several ways exist for Twitch users to monetize their live videos, including subscriptions, badges, gifts, emotes, ads, and donations. Flutin lets you multistream to this streaming behemoth and leverages its potential seamlessly to grow your channel.
4. LinkedIn Live
Aside from its role as a professional network, LinkedIn has now evolved into a full-fledged platform for creating content. LinkedIn is used for organic social media marketing by 93% of B2B content marketers. Besides, LinkedIn users have twice the buying power of average internet users.

This free live streaming features on LinkedIn include a live chat option, a moderation tool and analytics. A LinkedIn event can also be created and streamed directly. You can record previous live streams using LinkedIn Live. Although LinkedIn allows live streaming, its capabilities are more constrained than those of other social media sites, and approval is required before you may do so. Additionally, there are no ways to monetize your stream.
Who should be a LinkedIn streamer? Any professional who wishes to advertise an event, show people inside their workplaces, hire new workers, build their authority in their field by speaking with experts or show their knowledge through tutorials and seminars.
5. Instagram Live
Instagram is becoming popular for more than just sharing photographs with pals. On the site, you can also get on-demand and live videos from your favourite companies and influencers. In actuality, 13% of all social media users who watch live streams use Instagram.

Instagram gives live streamers a lot of ways to distribute content, including IGTV, Stories, and live video. Every time you go live, a notification is sent to your followers, allowing them to watch right away. Instagram also records your streams to IGTV so that anyone can view the replay afterwards. There is a free live chat tool in Instagram Live, and you may invite people to join your live stream as well. In-stream advertisements and donation badges are two ways to monetize.
Free Live stream To Multiple Social Streaming Platforms with Flutin
To increase your online presence and enhance your community outreach, you can simultaneously live stream your content to multiple social media platforms using Flutin.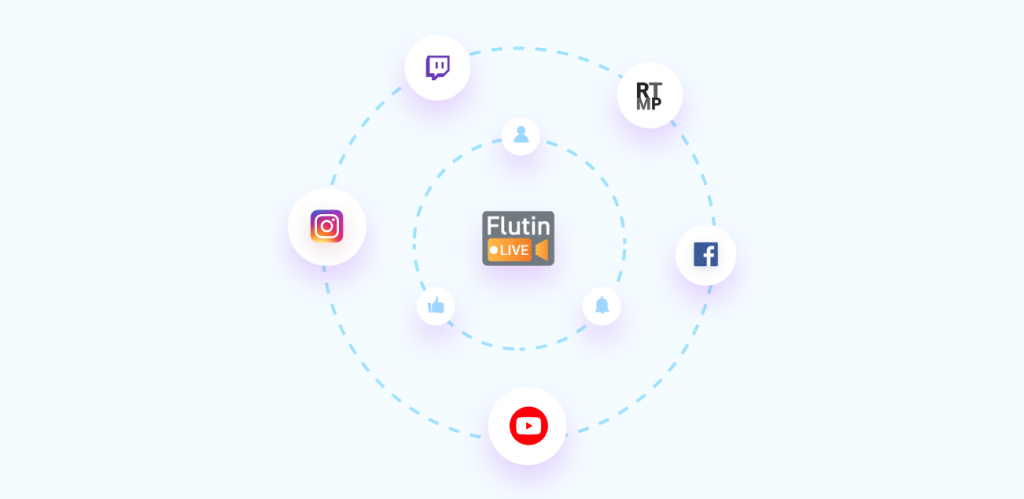 Flutin allows you to go live on Facebook, Twitch, YouTube, and 30+ other platforms at the same time. By using Flutin's chat tool, you can monitor the live chat for each platform in one window. Connecting your social channels with your Flutin account is simple and quick, allowing you to start multistreaming to several channels at once and expanding your exposure.
Related Topics:
Join our official streaming community and get tips to improve your social presence, hacks to increase brand engagement and generate more revenue.