The love a person has for his/her country is hard to explain. But Bollywood has done a fantastic job of celebrating our country's pride through its films and music. Certain patriotic songs will deeply move you and fill your heart with pride and passion for our country. Today, we bring you a list of those top 10 patriotic songs.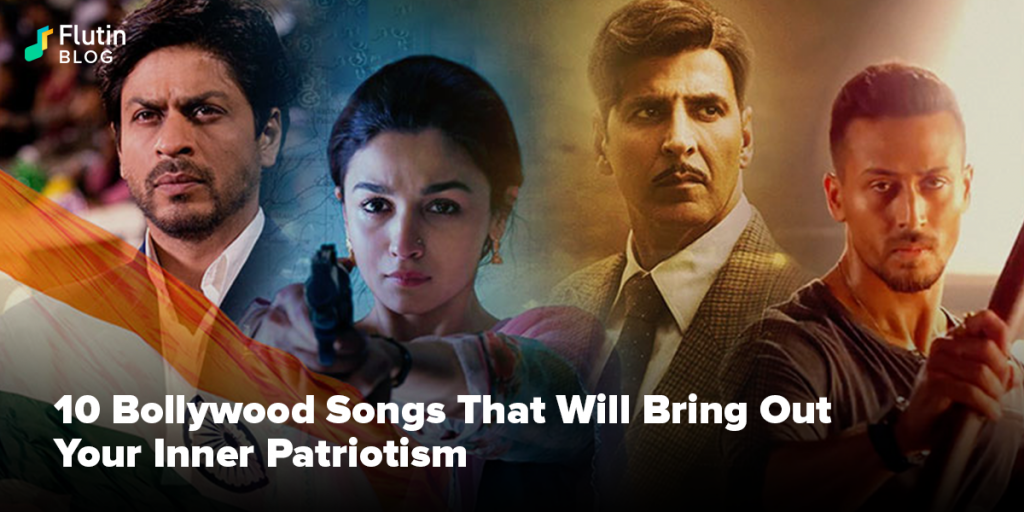 1. Kar Chale Hum Fida – Haqeekat

The movie Haqeekat was the first real attempt at making a war movie. It has the Sino-Indian war at its background and this song is a soldier's message to his homebound comrade.
2. Yeh Jo Des Hai Tera – Swades
No other artist has been able to evoke deep patriotic emotions as well as A. R. Rahman has. And this incredible song is the proof of that fact which expresses the strong bond a patriot has for his/her country. 
3. Maa Tujhe Salam

This is another masterpiece composed by A. R. Rahman. In fact, no list of Indian patriotic songs is complete without this epic song that fills you with a fierce passion for your country and its people.
4. Sandese Aate Hain – Border

This is one song that is played on the microphone everywhere on 15th August and 26th January each year. And it deserves that not only for its patriotic touch but also how a soldier's family longs to see the brave soldier.
5. I Love My India – Pardes

This song is perfect for expressing your love for your incredible country in a very happy and enjoying tone. And that is why this song is one of the most favourite patriotic songs in Hindi of kids.
6. Ae Watan Mere Abad Rahe – Raazi

This powerful song was featured in the Alia Bhatt starrer Raazi. It fires a strong emotional feeling for one's country and motivates people to wish and do good for one's motherland.
7. Rang De Basanti – Rang De Basanti

This song was inspired by the classic number Mera Rang De Basanti Chola from the movie Shaheed. Daler Mehndi's energetic voice and zeal will surely fill your heart with the same passion.
8. Mere Desh Ki Dharti – Upkar

When it comes to Indian patriotic songs, you cannot go without remembering the classics. This is one of the best patriotic songs that spread the greatness of our agriculture-driven economy.
9. Ae Mere Watan Ke Logon

This song sung by the legendary Lata Mangeshkar will surely move you to tears. It inspires you to remember and pay homage to the courageous soldiers and martyrs who sacrificed everything for this country.
10. Aisa Des Hai Mera – Veer Zara

This is another one of those Hindi film patriotic songs that praise the beauty and magnificence of this wonderful country. But, apart from that, it also focuses on the importance of cross border harmony.
Music is the best way to instil patriotism across people and Bollywood has made that clearer than ever with these top 10 patriotic songs. This Republic Day, set up your playlist on Flutin and be ready to welcome the inner patriotic in you.