I think we have fully addressed the potential of live streaming services and how it's going to stay at least in the near future. Now that you are aware of where the live video streaming industry is headed, we are here to guide you in your decision regarding the choice of live streaming platforms. Here are the best live streaming platforms and the things you must know about them.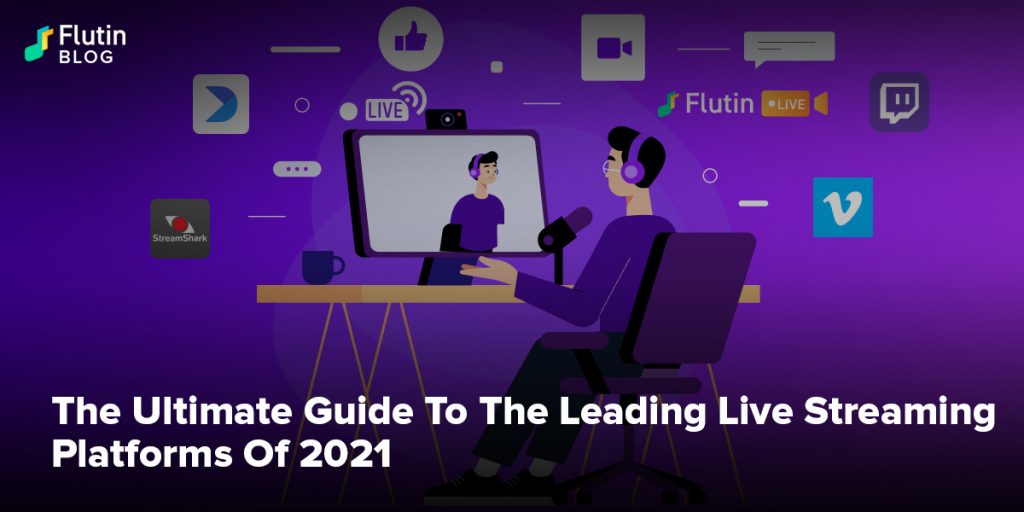 Have you ever watched a live stream during the pandemic? We are sure that your answer would be yes. Along with the COVID-19, another phenomenon was taking the world by storm (in a good way though) – live streaming services. Keeping the dreams of artists alive, live streaming platforms were exactly what the world needed to bring people together and make them see a ray of hope amidst all the madness. Do you too want to stay connected to your audience and keep following your passion? We have compiled a list of the best streaming platforms and how each can benefit you.
1. Flutin Live

Created with the primary focus of enabling artists to engage in live video streaming in the most seamless way possible, Flutin Live is the ultimate artist tool.

Pros:
Create, schedule and stream as many times as you want.
Stream simultaneously on other social media platforms by connecting your channels.
Monetize your streams via easy methods such as ticket sales, gratuity, requests, and more.
Interact with your audience via features like live chat and more.
Start your stream whenever you please in just 15 minutes' notice.
2. Vimeo

The Vimeo platform hosts over 10 million events annually – one can only imagine its popularity amongst streamers.

Pros:
A major benefit for streamers and viewers alike is the lack of ads.
It gives you a professional feel.
It is easy to use for both the streamer and the viewer.
Cons:
Traffic generation via this platform needs improvement.
Not available in China – world's most populous country.
3. StreamShark

StreamShark has made quite the name for itself in the streaming industry with instant services and facilitation of innovative content.

Pros:
It encodes your video.
It offers a greater storage capacity.
Cons:
Support for your channel would be minimal.
Lack of video analytics.
Your video won't be accessible in China.
4. Dacast

Dacast is a fast growing video streaming platform that offers comprehensive services.

Pros:
You can record your live streams.
This platform is compatible with smartphones.
No restriction on the number of viewers and live channels.
Cons:
Beginners find the interface a bit complicated.
It is not free.
5. Twitch

Twitch is essentially a live streaming platform that has also acquired the role of a social media platform.

Pros:
Twitch is not free but quite affordable.
Beginners often prefer it for ease of use.
High levels of engagement.
Cons:
Twitch is not ideal for professional streamers.
The monetization options are limited.
The imposition of strict community guidelines.
So, what's our take on the whole deal? Why wonder when you can have your cake and eat it too? Our pick would be Flutin Live which allows you to engage in multiple streaming simultaneously – you stream once and enjoy the benefits from multiple platforms like Facebook and YouTube. We hope this article gave you a clear perception and we wish you a happy streaming journey!
Install the Flutin app today to set up your playlist now.