Kunal Jai Singhani (aka Kunaaaaaaal) won the nation's heart as well as the title of the first-ever winner of HomeStars Rapchik with his insane talent of creating mettlesome raps. But, what was it like for the man of the hour himself? What motivated him to give his all in each performance? What does he plan to do next? Read on to find out all the answers to these and more!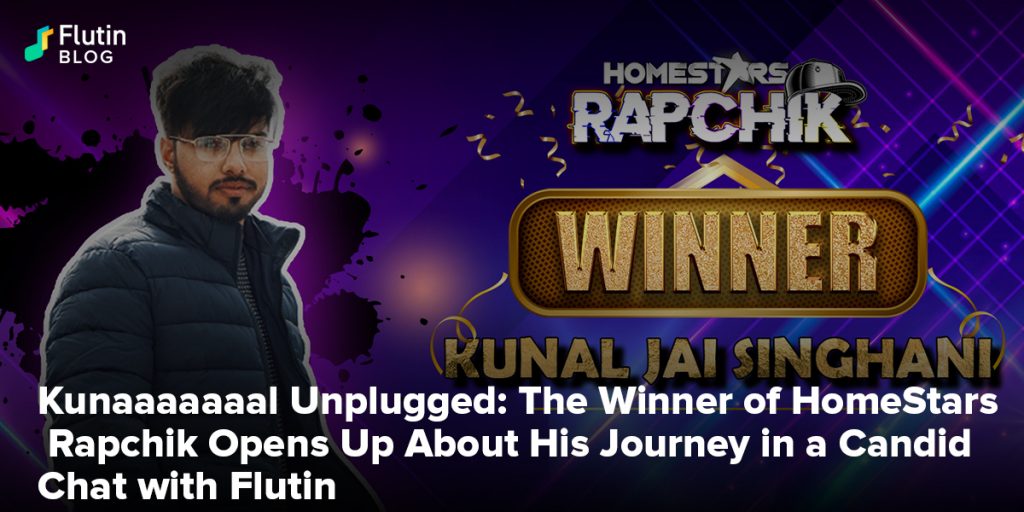 With rapping skills that made the entire nation go weak in the knees in awe of his true talent, Kunaaaaaaal (originally known as Kunal Jai Singhani) made history by becoming the first-ever winner of the rap talent show HomeStars Rapchik. In an exclusive chat with Flutin, the Nainital-based rapper talks about his firsthand experience in the competition, his journey to winning the competition, his plans for the future and more!

Q: How would you describe your journey from submitting your audition tape to getting selected in the top 15 and ultimately winning the competition?

Kunaaaaaaal: I got to know about HomeStars Rapchik being organised by Flutin through a pop-up on Instagram. Some of my friends had also sent me the link, urging me to participate in this competition.
So, I decided to sign up for it and sent in my latest rap that I had written then. Frankly, I had no hopes of being selected by Flutin… it was an all-India level rap competition, you know. But then, after 20 days, I received a call from Flutin congratulating me on getting selected for the top 15 and asking me to be ready for the game.
I was thrilled and confused at the same time… I didn't really know what to do. So, I had to do a little pep talk for myself and I said, "This is something that you have to do and you have to give your all to it." You see, before this, I was trying to get into spirituality and was reading the Bhagavad Gita.
Though I couldn't finish it, I implemented a small lesson that I had learned throughout the competition – "Karm Karo, Fal Ki Chinta Mat Karo". And this is what fuelled me to give my best in each performance. I knew head on that there were many budding rappers who were better than me. But, I aimed to become a better version of myself each day. And throughout the journey, Flutin immensely helped me carry out this mission and the world (especially India) shaped me into what I am today.

Q: Which participants did you see as your biggest challenges?

Kunaaaaaaal: Both the runner ups were pretty solid contenders. I like PRavesh's writing skills way too much – he is amazing at it. So, I was keeping him in check. But, I would particularly mention PrithV – the first runner up in this competition. He was an extraordinary contender and his flow and style are extremely powerful. So, I expected him to put up a tough act to beat in the finale – and he did.

Q: How did your family and friends react when they found out that you had won the competition?

Kunaaaaaaal: I received a mixed reaction actually. I called up my mom and she was laughing out loud in excitement. She was also a bit emotional about it. On the other hand, my friends thought it was a well-deserved victory and knew that I had the potential to win Homestars Rapchik. Now when I walk down the roads in my small city, Nainital, people come up to me and congratulate me – it feels very heartwarming.

Q: What are you planning to do with your prize money?

Kunaaaaaaal: So, I lost my job in March when the nationwide lockdown took place and had been broke since then. I also didn't look for a job elsewhere since I was already pursuing Chartered Accountancy. The first thing I plan to do with the prize money is to gift myself with a brand new phone. I will also give a part of it to my family since Nainital is a tourist attraction and we have lost a lot of money in this pandemic.

Q: How do you feel about getting the opportunity to produce your own music video with Flutin?

Kunaaaaaaal: It feels GREAT! I'll tell you something – all the videos that I have created so far have been shot on my Redmi phone that cost me around ₹13K two years back. I do not have the equipment nor the resources to be able to create quality videos. Flutin has access to proper equipment and big studios and I am very grateful to them for helping me come up with a proper video. 

Q: Do you have any message for aspiring rappers across the country?

Kunaaaaaaal: I would like to encourage them to be true to their pen. At the same time, don't be very rigid with your thoughts and emotions – they change with time and depend on many factors. If you think something is wrong today and speak out against it and later realize that you were mistaken, it's okay. You can come out and say what you think is right now. Don't be afraid.


Q: Any final thoughts?

Kunaaaaaaal: Yes, I want to thank Flutin with all my heart as well as the people who voted for me. I'm pleased that I could represent a small city like Nainital in a national level competition and I would like to thank you on behalf of my people.
Kunaaaaaaal is extremely excited about his upcoming collaboration with Flutin. Install the app and stay tuned for the most anticipated rapchik rap music video that has made the entire nation hold its breath!