The professional social networking and live streaming platform LinkedIn has more than 722 million users spread across 200 countries and regions. This is why it is so powerful. LinkedIn surprised its users by launching its LinkedIn Live features in 2019.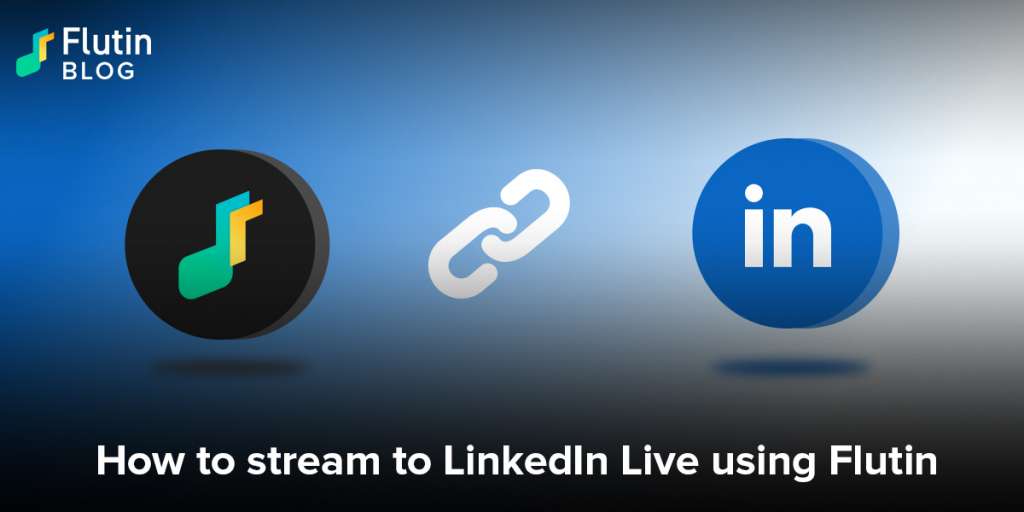 In spite of such great success of this platform, users are unaware of how to use LinkedIn live. So to ease this up, Flutin will now let you stream your live show on LinkedIn. This guide will be focusing on how to stream on LinkedIn Live using Flutin and some tips for you to outgrow your business using LinkedIn live.
What do you need to stream on LinkedIn Live?
When you are live streaming using LinkedIn then, presenting without preparation won't work. Pre – planning of content is much more required while using LinkedIn than any other social networking platform because this social networking platform has a mix of different requirements.
To be able to live stream on LinkedIn, you need to:
Get the social network's approval : Streaming on LinkedIn live is not available to everyone even if you are already a member. You will still have to apply for access to stream live by either filling up a form or by arranging it with your LinkedIn Marketing Solutions rep.
Choose a third party broadcasting tool : You will require a broadcasting tool to stream on LinkedIn. Flutin has now introduced its LinkedIn Live feature for its live streamers. You can use Flutin to stream on LinkedIn and various other platforms in a few easy steps.
Have the necessary gear : If you are planning to start streaming on LinkedIn live, you require proper zeal and enthusiasm. LinkedIn is different from other social networking sites; it requires formal and decent content. You might not be able to attract much of an audience in the beginning but remember to keep going with the same spirit.
There is no particular order of meeting these requirements. Just make sure not to make any big investments in this gear unless LinkedIn gives a thumbs – up.
How to stream on LinkedIn Live using Flutin?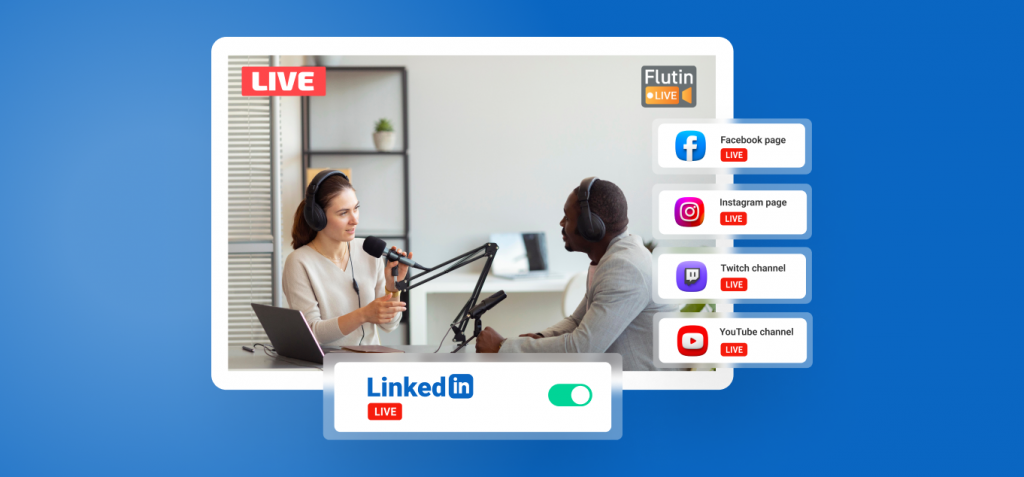 In order to stream on LinkedIn using Flutin all you need to do is connect your LinkedIn. Here are some easy steps to do so:
Log into Flutin : Log into Flutin and then you will come across the menu on your left where you can find the channel section.

Click on the channel section : Doing this step will present you all the social media streaming platforms which Flutin supports.

Pick "LinkedIn Live" from the list of available channels : This will lead you to a window where you must click on the "connect LinkedIn" button. Also, will let you log into your LinkedIn account.

Give permission to Flutin to access your LinkedIn account : After this step, you can stream on LinkedIn Live using Flutin.
The success LinkedIn has achieved would have been unimaginable back in the 2000s. Over the years, it has evolved into the ultimate platform for marketers to drive concrete results. We are not talking about random results here. LinkedIn has been proven to be around 277% more effective than Twitter and Facebook. But, did you know that LinkedIn is also a live streaming platform? LinkedIn Live is a powerful tool used by many companies to up their video marketing strategy game. So, here are 8 tips on taking your business to new levels of success via LinkedIn live streaming.
1. Take the Role of a Thought Leader
The role of a Thought Leader is essentially that of an industry's "go-to expert." For instance, Mickey Mikitani, the billionaire CEO of Rakuten, has over a million followers on LinkedIn. You can take inspiration from many such dignitaries and use the opportunity to share your knowledge in the purest form with your connections, spark thoughtful debates and discussions, and inspire people with your thoughtful stories.
2. Tell Your Tales of Success
Showing the success of your existing customers is one of the best ways to attract new ones. Fitness coaches, for example, post "Before" and "After" photos to show how far they have come. You may consider doing the same on LinkedIn Live. It would be even better if you could invite a successful customer on your live show who is willing to share his/her experience with your business. You can conduct this in a live talk show format and ask the person questions which your audience would like to know. It would be even better if you could leave your viewers with an external source where they could find more information like a blog post or a video by the customer (if any).
3. Sought After the Decision-Makers
Knowing who the decision-makers are and identifying and targeting them is critical to effective lead generation. LinkedIn Live is an excellent tool to do so on the basis of company, location and position. Here's how you can effectively target decision makers via a live broadcast:
Try incorporating the target position of your audience in the live video title.
Make your content around a specific problem that they are facing.
Give them a few answers or solutions to those problems.
Connect with the decision-makers and tag them in your announcement post of the live session.
4. Showcase Your Offerings
When you have a sufficient number of people watching your live session, grab the chance to talk about the product or service you offer. Despite the fact that LinkedIn professionals are used to networking, remember that staying classy is important when you promote something. You can do this in two proven ways. Firstly, you can mention and provide the link to a blog or website which has details about your product or service. Secondly, you can also tag third-party posts about your product or service.
5. Plan a LinkedIn Event
Your launch or live training will receive more traction by creating an event on LinkedIn. Your connections will be able to "Attend" the LinkedIn Live event you create. Upon acceptance, your connections would also receive notifications in the form of reminders about your event. But, what's more helpful is the fact that the organizers of such events get access to useful statistics such as the number of attendees and other relevant information.
6. Seal the Deal
Getting people to watch and interact with your LinkedIn live streams shouldn't be your only target. You should also think about converting the potential leads into your new customers. While wrapping up the live stream, do not forget to mention important information such as a free consultation or session you're offering, a free manual of information about the problem your business is seeking to solve and how you are solving it, etc. You must set realistic standards for them when it comes to such free resources and include the links in the video caption or the comment section.
7. Join Hands with Other Businessmen
LinkedIn is a place for you to not only connect with your potential leads but also with your peers and potential business partners. And if you want to expand your reach, collaboration is the golden key. In fact, if you are just beginning and know a professional who is used to hosting LinkedIn live streaming sessions, you can make a guest appearance at their event to get a feel of it. You can also watch their previous lives and collaborate with them to do a stream together. This way, you will also be able to reach out to other businessmen's connections and not just be limited by yours.
8. Data Analysis of your LinkedIn Live Streams
Data analytics is a huge part of gauging your success on LinkedIn Live. Regularly monitor statistics such as the number of viewers clocked in a stream, the number of comments added, demographics of your viewers, positions of your viewers, etc. Knowing these would help you target much better.
These were the 8 tips and tricks to boost your business via LinkedIn Live. Head over to Flutin today. Are you wondering why you should visit Flutin to live stream on LinkedIn? Well, Flutin lets you stream to not just LinkedIn but also all other mega streaming platforms at the same time. Have fun exploring the best of all streaming worlds.
Related Topics:
Join our Facebook Community to get regular updates and interact with fellow streamers.
Follow us on our social media accounts: