Amazon Live combines live video with live shopping to create a fun and interactive experience. This exclusive live shopping program allows customers to directly engage with creators who sell and showcase their products, resolve queries in real-time, conduct polls and provide limited time offers. So, if you have your own product line or are planning to launch one, it's time to pay attention to Amazon live streaming. Today, we'll discuss what Amazon Live is, why you should consider it for live streaming and how to do it.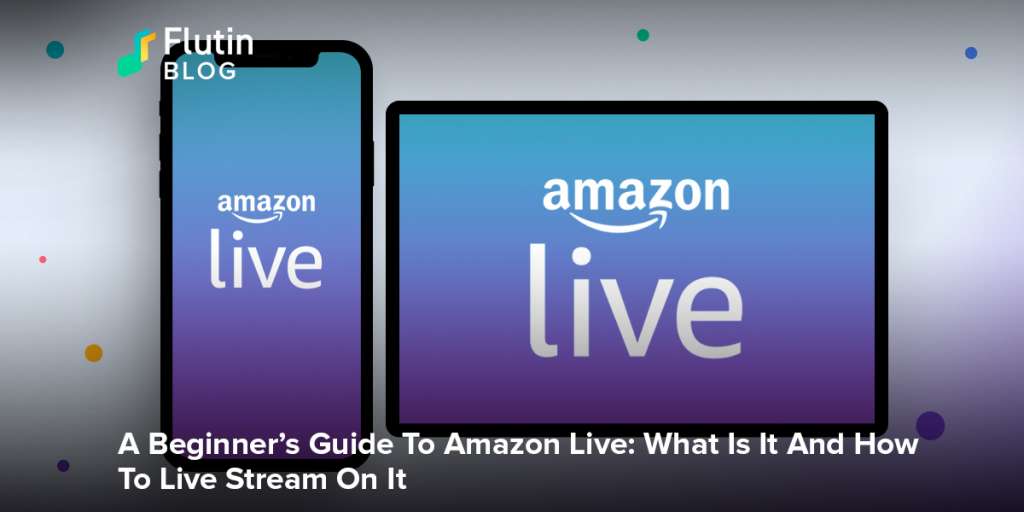 Amazon has a market capitalization of $984.20 billion, making it one of the world's biggest companies. In America, it enjoys a market share of 39.5% of all e-commerce and is rapidly taking over the brick-and-mortar space. Through Amazon Live, the company integrates live video with live shopping and continues to provide more services as it grows. And as you might have guessed, it has been launched in India too. A total of 15 live streams will be available on Amazon India's live streaming platform every day between 10 am and 1 am. Amazon live streaming is pretty straightforward, but before you broadcast your first video, you might have some questions. Find out what Amazon Live is and how you can use it to boost your brand awareness and drive sales.
Amazon Live: What is it?
As a promotional or sales tool, Amazon Live lets Amazon sellers broadcast live video content to their customers. Video streaming is Amazon's area of expertise. Prime Video, or Amazon Prime Video, has been active in various forms since 2006. Video on demand (VOD) has been Amazon's specialty for over a decade.
Amazon has a presence in the live streaming market through Twitch. Since 2014, it has owned and operated the live streaming platform as a subsidiary. Unlike Prime Video or Twitch, Amazon Live is an entirely different forte. Besides live streaming, it also offers on-demand video from previous streams. There is, however, one significant difference: live shopping. This platform was created for sellers on Amazon to promote and sell their products live while streaming.

What are the benefits of Amazon live streaming?
The benefits of Amazon Live go beyond increasing sales and brand awareness through the live streaming of shoppable videos:
1. Brand promotion
Live videos can help you gain more exposure for your Amazon products if you have a store there. If you go live on Amazon during the 24 hours following your livestream, you will receive credit for purchases made from your Amazon Influencer storefront from brands you support.
2. Diverse product portfolio
If you want to stream on Amazon Live, you will be limited to the products listed on Amazon's website. As Amazon sells more than 12 million products (and more than 353 million through third-party sellers), this usually isn't an issue. Products are available in a wide variety of niches, such as fitness, fashion, technology, music, cooking, etc.
3. Free streaming
Amazon Live is totally free to use, but you must meet a few basic requirements (which have been discussed below).
4. Interested buyers
Viewers have a certain expectation of entertainment or information when watching live streams on platforms such as YouTube, Twitch, or Facebook. Sometimes it can seem pushy to try to sell products on these platforms. Since Amazon is a marketplace in the first place, Amazon Live viewers are already prepared to make a purchase. As a result, it is easier to generate sales.
5. Boost during times of sale
In times of site-wide sales on Amazon like Prime Day, Black Friday, Labor Day sales, and back-to-school sales, live videos can help differentiate your Amazon storefront from those of your competitors. It may entice people to click and purchase your products if they can watch live videos featuring your products.
How can you go live on Amazon Live?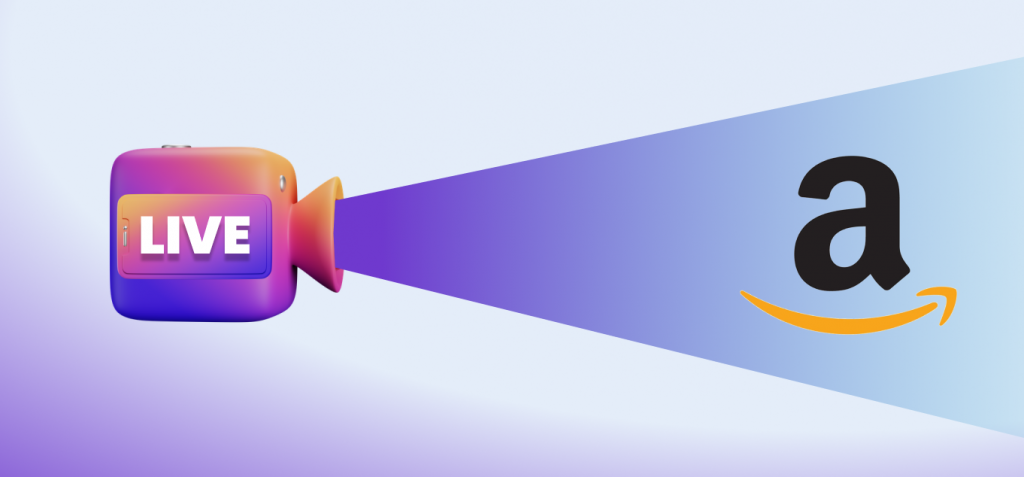 Not all users have access to Amazon Live. If you're one of the following, you can go live on Amazon:
A part of the Amazon Influencer Program as an influencer (and you have an active influencer storefront on Amazon)
A seller on Amazon who uses Seller Central
A vendor on Amazon with an Amazon store in the advertising console that is approved
It is also necessary for you to be registered with the Amazon Brand Registry.
Amazon Live can be accessed in two ways. First, you can use the Amazon Live Creator app, which is available only for iOS. The second method involves using a third-party streaming program.
Going live with the Amazon Live Creator App
Visit the App Store to download the Live Creator App.

Use your Amazon Brand Registry or Seller Central credentials to log in.

Decide what product brand will be discussed in your stream. Amazon Brand Registry registration is required for that brand.

Choose a stream source. You can broadcast through the camera on your phone or use an external camera for which you would require third-party broadcasting software.

Create a carousel of products for the stream, which will be shown during the broadcast.

Your live stream should have a name. Choose something interesting and descriptive. Make sure you stand out from the crowd.

The stream should have a thumbnail. Potential viewers will see this image first, so it's important to make it appealing and enticing enough to have them click on it.

Use the Practice Mode in the app to test your setup and internet connection (viewers will not be seeing your stream during this session).

To promote the stream on other channels, schedule it in advance. Amazon Live will also display a notification about the stream. The live stream can also be started immediately without scheduling.
Going live on Amazon with Flutin
When streaming on Amazon with an external camera, you should use live streaming software like Flutin if you want more control over how your video looks and feels. For the Amazon live stream, you need the Live Creator iOS app. You can go live on a desktop computer using a web browser.
This is how you do it:
Go to Flutin and log in to your account (or create one if you don't already have one).

Go to 'Channels' appearing on the left side of the screen.

Click on 'Custom RTMP'. A pop up window will appear asking for the URL link and stream key.

Sign in to your Amazon Live Creator app, and choose a title, thumbnail, and products for your live stream to prepare the live stream.

Open stream settings. It should display either an external camera or a phone camera. The Video source settings will appear once you tap one of the above, whichever is listed.

Be sure to select External camera. Click the Get URL and stream key button just below. The RTMP URL and stream key will be sent to you by Amazon. These should not be shared with anyone.

Go back to Flutin and enter the URL and stream key generated above in the appropriate fields. Then, click on 'Add custom RTMP'.

Return to the home page and click on '+ New live event'. You can either choose to go live now, schedule a live stream or schedule a pre-recorded video. Click on the option of your choice.

Enter relevant details of the stream like event name, description, etc. On the next page, you can turn the toggle on in front of your Amazon RTMP streaming channel. Choose your monetization methods and click on 'Go to Live Studio'.

Click on the red Go Live button when everything is ready.

Press the Go Live button in the app.

You're live on Amazon now!
Apart from streaming on Amazon Live, Flutin also lets you multistream your broadcast to multiple channels simultaneously. With your Flutin account, you can connect Facebook, YouTube, Twitter, Twitch and other similar platforms so that your live video appears on all of them at once. A unique feature of Flutin is that it allows you to broadcast professional live streams in a matter of minutes. Your stream can be broadcast in Full HD, guests can be invited directly, graphics can be overlayed, and pre-recorded videos can even be uploaded and streamed live.
Please note that streaming to Amazon Live requires the use of the custom RTMP feature in Flutin, which requires a paid subscription.
Where will your viewers see your Amazon Live streams?
There are three levels of Amazon Live, each with its own benefits. Streamers start as Rising Stars, which makes their streams eligible to appear on your Influencer storefront and on your brand's product detail pages. You become eligible to have your streams appear on more Amazon.com pages when you level up on Amazon Live. Amazon does not state which pages these other placements may be. You can level up as you stream more. Streams with higher levels are more discoverable.
Should you join the Amazon Influencer Program?
The Amazon Associates Program entitles you to receive rewards after customers purchase your recommended products. The Amazon Influencer Program is just an extension of the aforementioned program. Anyone can sign up as an Amazon Associate and start promoting products. However, the Influencer Program is only open to social media influencers who are successful at promoting products. In addition, Amazon Influencers can set up their own stores on Amazon.com and sell the products they recommend to their audiences. As a result, the influencers receive a commission from these sales. And the key thing to note is that Amazon Associates cannot live stream, while Amazon Influencers can.
Note: Making money doesn't necessarily require streaming directly to Amazon Live. If you want your viewers to shop via your Amazon storefront during your live stream on another platform, you can simply put your vanity URL on your live stream.
Amazon Live streaming tips: 6 things you need to know
Amazon Live has its own set of best streaming practices, just like any other streaming platform. Stand out from other streamers with these tips for making the most out of Amazon Live.
1. Engage your viewers
The purpose of live shopping is to interact with your audience as a streamer. Motivate your audience to raise queries, put their comments across or use the "reactions" button to interact with you. Don't forget to give a shoutout to everyone who joins your stream. Ensure the message sinks in by using calls to action: refer to your product carousel frequently and highlight your main selling points regularly.
2. Give a demo of your products
Give your viewers the opportunity to see what the products look like in action. Rather than just holding the products up for the camera, demonstrate the products. Try on the clothes you're promoting. Show how tech gadgets work if you're selling them. You should also make sure to place bestsellers at the top of your product carousel since they are the most likely to attract attention.
3. Ensure a fast upload speed
When you broadcast live video content, make sure your internet connection is stable. Most commonly, this means connecting a physical Ethernet cable to the modem. With an iPhone, that's not possible, but with streaming software on a computer, an Ethernet cable can work. In addition, ensure you have sufficient bandwidth with a minimum upload speed of 5 Mbps.
4. Promote your broadcast besides on Amazon
A link to your live stream is generated by Amazon Live Creator, so you can share it on the other channels you manage. You can post the link to your social media accounts, email it to others, or share it in any other way you like. It is also possible to use multistreaming to broadcast the live video to other sites.
5. Offer in-stream deals and promotions
Create exclusive promotions with live shopping to maximize your sales. You can give a discount on one of your featured products to live video viewers only. By creating a sense of exclusivity and urgency, people are encouraged to make a purchase.
6. Multistream with Flutin
For live streaming, Amazon recommends using a streaming service like Flutin instead of the Live Creator app. With this option, your stream is recorded with a high-quality camera and microphone, and you can customize it to your liking. A streaming software and a desktop computer are needed to manage multiple cameras and mics if your stream features more than one host. Besides, you can multistream to all the giant social media channels like Facebook, YouTube, Instagram, LinkedIn, etc. and widen your reach exponentially.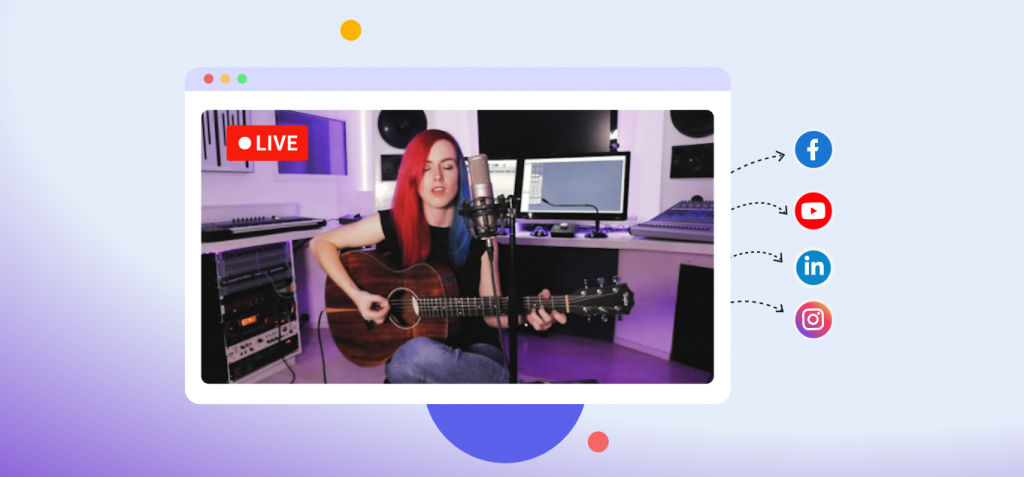 Amazon Live is a pretty unconventional live streaming platform. Unlike other streaming platforms where you can directly promote and sell your products, you need to be a seller on Amazon first to be able to avail of its facilities. Amazon Live also has a theme, unlike other general platforms. On the platform, you stream content with a purpose. The content you stream should help you sell more products on Amazon, whether it's how-to videos, product demonstrations, or Q&A sessions. Don't forget to stream with Flutin to explore its true potential.
Related Topics
Join our official streaming community and get tips to improve your social presence, hacks to increase brand engagement and generate more revenue.