Live streaming events are a great way to make yourself heard. Your talent is noticed and recognized, and your art going – especially in these challenging times of an ongoing pandemic. Despite the alluring opportunity that they present, the 'what if' factors spark off certain speculations, giving rise to live streaming myths. Today, we will bust some common myths attached to live stream concerts and examine their validity.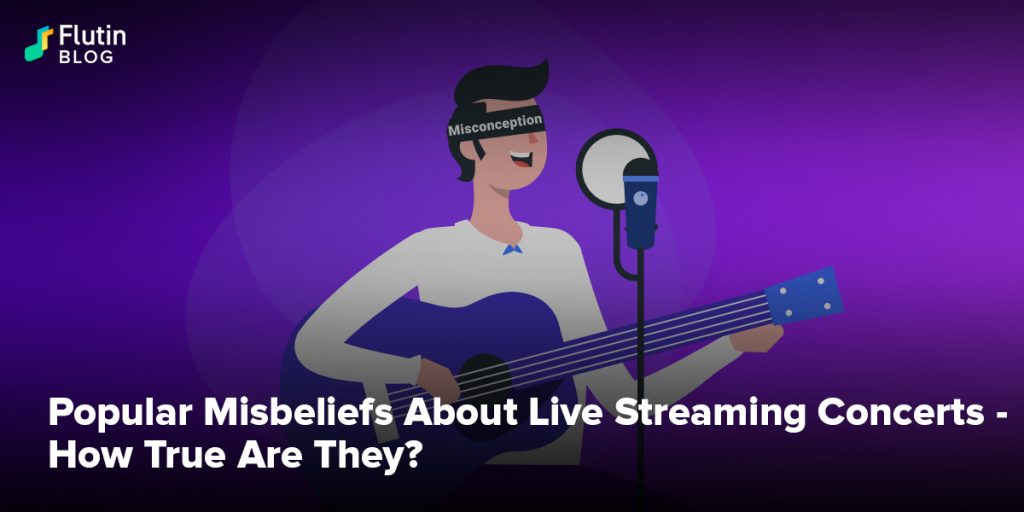 While live streaming events have become widely popular, there are still common misconceptions concerning them that prevent many artists from making the most of what the live streaming world offers. You may have heard about common myths like it's only beneficial for established stars or mega-events of the likes of Coachella. Is there any truth in these claims or should emerging artists embrace this medium of performance? Let's find out – we have debunked a few live streaming myths below.

1. There's no money in live-stream concerts.


Well, that's just simply not true. You have various methods at your disposal to monetize your live streams. For instance, our Flutin Creator Suite lets an artist earn handsome revenues through a host of methods such as gratuity, ticket sales, paid requests, merch, tips, and so on.
2. You need a superfast Wi-Fi connection for a smooth streaming experience.


Well, you wouldn't want to make your audience wait for your connection to get better or get disconnected in the middle of your stream. You indeed need a fast internet connection. However, the stability of the connection is as important as its speed. Secured wire connections are actually better than Wi-Fi connections in this case. Not only are they more stable but also highly reliable. As far as speed goes, even an upload speed of upto 5 Mbps can help you stream on platforms like Facebook Live.

3. You cannot collaborate with other artists for a group performance.


Well, this one is factually incorrect and outright false. For instance, Facebook and Instagram both allow you to live stream with other people. Even YouTube Live lets you add more than one person to stream with.

4. Live streaming is complex and not everyone's cup of tea.


You should get yourself a good and stable internet connection. Place a video camera with good enough quality in front of you and get a microphone that suits your budget. You prepare your content, plan your session and go live with just a tap. What's complex in that?

5. You cannot stream your content simultaneously on multiple platforms.


Frankly, that's a thing of the past. Today, streaming platforms have evolved. They not just let you stream with multiple people but also on various platforms simultaneously. For instance, our Flutin Creator Suite lets you broadcast your stream to your social media channels (YouTube, Facebook, Instagram, etc.) at the same time.

6. Live streaming events are an expensive affair.


If you're adamant about getting yourself all the high-end equipment for your live stream setup, then it's only logical for you to accept that your revenue is never going to exceed your costs. Instead, go with a simple setup with just the basic requirements and you'll be amazed at what live streams can bring your way – monetarily speaking – subject to the quality of your content.

7. You can't live stream a pre-recorded performance.


Contrary to popular belief, you can live stream a pre-recorded performance. There are ways to do that and multiple platforms offer that option. There are various tools available that allow you to schedule and broadcast your pre-recorded performance on multiple platforms.
Live streaming might seem costly and complicated at first, but it really couldn't get any easier. With streaming platforms' competition to make their interfaces simpler and better by the day, content creators have a tremendous opportunity here.