Split screen streaming is an immensely useful feature that offers streamers an open creative space to come together and have some fun with the audience. However, Facebook Live has removed this feature for laptop or desktop users while mobile app users can still avail Facebook Live. But, why did the mega platform do it? Is there any other way of using split screen streaming when streaming via laptop? How can you do it? What other features can you benefit from along with split screen streaming? Flutin is here to the rescue. Here's everything you need to know about split screen streaming with Flutin.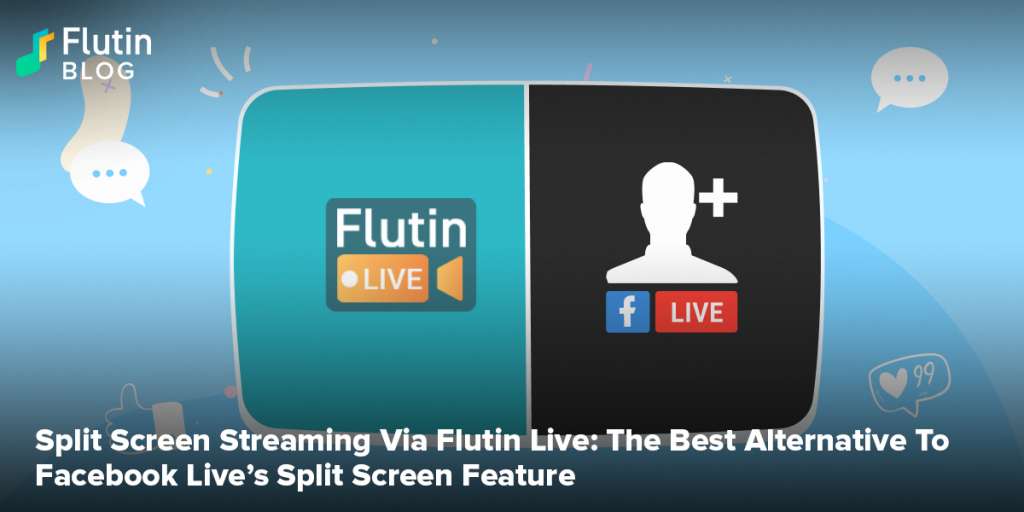 If you are looking to do a split screen streaming on Facebook Live via your computer but not being able to, it's because the platform removed that feature from its list for everyone other than mobile users. While earlier streamers could stream with a split screen via their laptop or desktop, it's just not possible anymore. But, you do not need to panic. We are sure that questions such as "Why?" and "What next?" must be going all over your head. So, here's everything you need to know about why Facebook Live did it and what the best alternative to its split screen streaming feature is.
Why did Facebook Live remove the split screen feature?
According to Facebook, they discontinued its "Live With Friends" feature for computer users as they deemed it important to "prioritize and focus on experiences that drive the most value for the community." It can be fathomed from this statement that Facebook's split screen feature was not polished and very few people were actively using it, regardless of the convenience and benefits it offered.
Is split screen streaming a thing of the past now?
While Facebook focuses on more innovative features for the future, an incredible one such as split screen streaming should not be let go of without realising its full potential. And that's what we at Flutin are here to ensure. Whenever you want to go live from your computer and need to bring on one or more guests on your stream, feel free to do it with Flutin. At present, Flutin can support only four people at a time on a single stream. But, our team is working tirelessly to ensure that this limit is expanded and those creators get all the creative space they need.
How can you conduct split screen streaming in Flutin?
Split screen streaming via Flutin is a fairly simple process. Follow the steps below to bring on one or more (up to 3 guests for now) on your live show.
Step 1: Login to your Flutin account by heading to the website. If you don't already have one, you must mandatorily sign up to avail the features and benefits.
Step 2: Click on the purple coloured "+ New live event" at the middle of the screen (you can also find this button at the top right). From the pop-up list, you can select whether you want to go live instantly or schedule a stream.
Step 3: After selecting the above, you will need to enter relevant details about your event, select the monetization method and pick the channels you want to multistream to. Once done, you can then enter the Flutin Studio right before going live.
Step 5: Once you reach the Flutin Studio, you can find several icons underneath the streaming window when you scroll down a little. There's one icon in the shape of a person with a "+" sign to its left right before the settings icon. Click on the icon, copy the link shown in the pop-up tab and send it to your guest. He or she can join using that link. When you are ready along with your guests, hit the pink "Go Live" button at the top right of the streaming window.
What other unique features can you enjoy on Flutin?
Along with split screen streaming, here are a bunch of other features that you can enjoy on Flutin.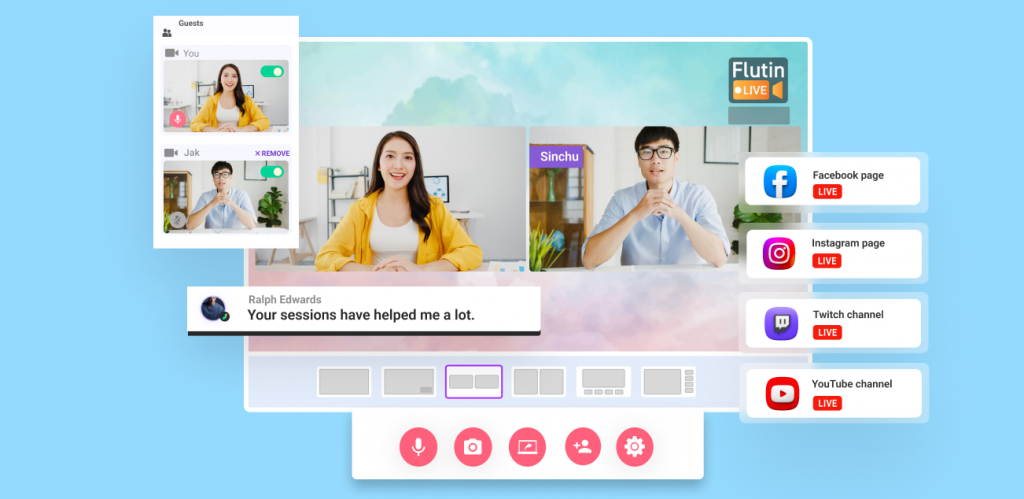 Chat highlighting: There are times streamers respond to a request or comment, but other viewers are unable to understand what you're saying or whom you're addressing. Flutin now lets you highlight the chat you are responding to avoid this issue.
Monetization methods: Flutin makes it easier and more fun to generate revenue from streams. Viewers can purchase virtual gifts for you and donate whatever amount they want. Additionally, they can purchase advance tickets to your live show and pay to pin their comments on top.
Tickers: Flutin has added another amazing feature: a ticker that rolls automatically past the bottom of your screen during your live streams, just as you see on news channels. You can use this ticker to display important information so that your viewers don't miss it by chance.
Customization: For maximum exposure, streamers can add their own logo. You can also display video captions on your stream to offer your viewers a more enjoyable experience.
Now that you know how to stream with a split screen and invite guests over, head over to Flutin to try it out today.
Related Topics:
Join our Facebook Community to get regular updates and interact with fellow streamers.
Follow us on our social media accounts: