The holiday season has arrived, and after yet another busy year, we could all use some festive fun. The last thing anyone wants is to sit through another end-of-the-year Zoom meeting, especially when Raj from HR is wearing an ugly sweater. Take a break from the virtual charades, Pictionary and printable BINGO cards – it's time to have fun in 2022 style. And the most prominent thing this year has been live streaming. We bring to you 10 virtual new year party ideas that will spice up your holiday celebrations. So, sit back, take these virtual party ideas and let Flutin do the rest.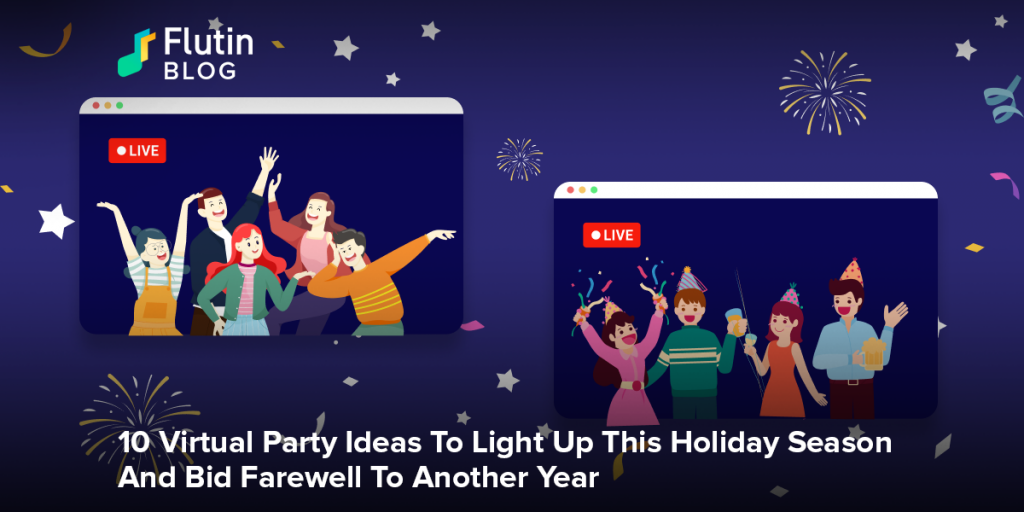 Christmas is the time of year when happiness and love are spread across the world. Regardless of how far people are separated, it's time to bring them together. You can broadcast real-time festive live streams onto all your social media channels and the web at once this holiday season using your favourite platform Flutin. Here are some tree-mendous virtual party ideas for Christmas and New Year to enhance the holiday spirit.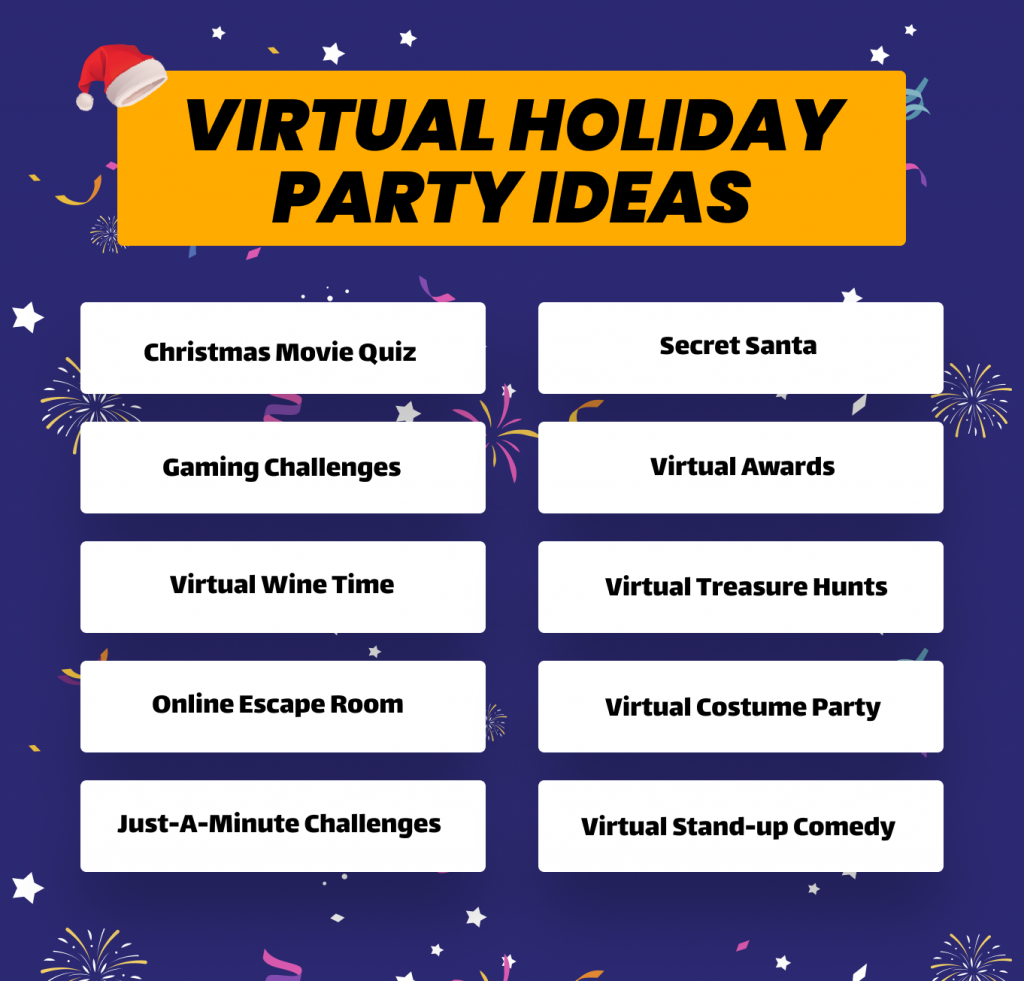 1. Christmas Movie Quiz
Everyone's competitive streak will be roused by a Christmas Movie Quiz. Take the Christmas movie trivia test this holiday season to see how well you know the holiday classics. The game can be created yourself or hosted by a professional if you can afford to get one. Countless rounds can be played, with difficulty increasing with each level. Don't forget to let everyone be a part of your celebration by live streaming it.
2. Gaming Challenges
Twitch has been the leading social gaming platform all year, stoking the hype of online gaming. People watching others demonstrate their gameplay through live streams has been one of the most notable trends this year. Perhaps it would be fun to host a virtual Gaming Marathon this Christmas, and everyone can play against one another, regardless of where they live.
3. Virtual Wine Time
Every year, around this time, we guzzle down festive cocktails to celebrate the holiday season. So, why don't you invite a wine expert and have him or her demonstrate how to make wonderful Christmas cocktails? Needless to say, your audience will absolutely enjoy it.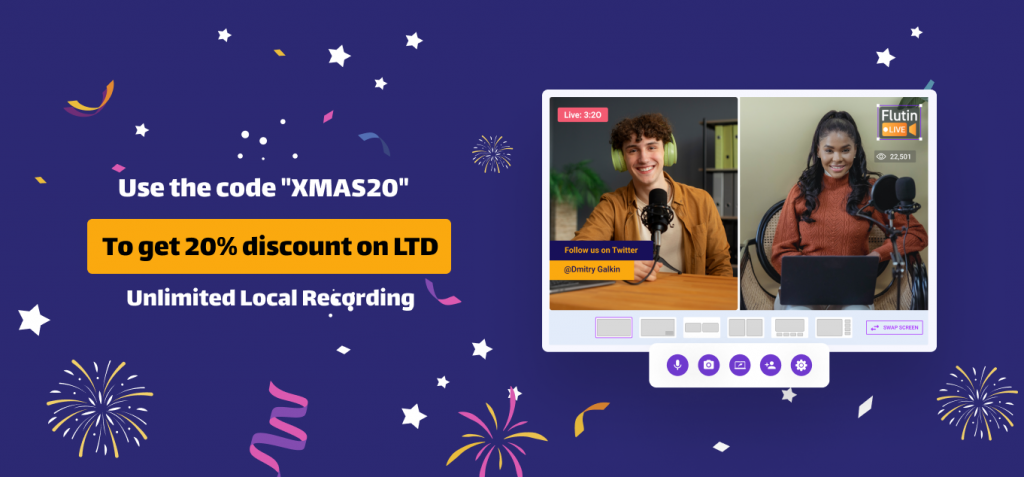 4. Online Escape Room
The advent of digital technology has led to escape rooms becoming increasingly popular as a virtual Christmas activity. In this game, teammates are locked in a room, and they have an hour to solve all the puzzles provided to them, enabling them to escape. With a Virtual Escape Room, you can create virtual teams to work together and solve puzzles, celebrate teamwork, and demonstrate problem-solving skills.
5. Just-A-Minute Challenges
A just-a-minute or JAM challenge is an excellent way to add excitement to your virtual event. You can make exciting online Christmas games that you can finish in a minute so that participants can score points as quickly as possible. For instance, you can raise a candy cane tower challenge by balancing a candy cane on your forehead and racing it down to your mouth without using your hands in a minute. The possibilities for such virtual new year party ideas are endless.
6. Secret Santa
Wouldn't it be fun if you could purchase a gift for someone randomly without them knowing? We can still make this virtual Christmas event fun and exciting, despite its challenging nature. Your audience can select gifts from a predefined list, and the items they choose will be shipped to the recipient. You can then hold an online Christmas party where you unbox all the presents live.
7. Virtual Awards
This one is a marketing must-have. We've all been forced to think outside the box in light of COVID-19, more so in nurturing employees and ensuring that their hard work, though remote, does not go unappreciated. You can live stream an award ceremony this Christmas to show your employees how much you appreciate them. Ensure everyone has a trophy to take home. The live stream can be embedded on the website of your company with Flutin so everyone can take part.
8. Virtual Treasure Hunts
Interested in hosting a virtual treasure hunt at your home? That's totally possible! Go live, let guests participate in challenges, and send them on a quest to find unusual or difficult items in your backyard or house. There are no limits to how complex or simple you want the tasks to be, from digging up an old book to finding the biggest tree around.
9. Virtual Costume Party
It is fun to host a virtual costume party to get in the mood for Christmas. The audience can wear funky stockings, Santa hats, Christmas glasses, etc. during the event. This can also be an incredible way of breaking some ice.
10. Virtual Stand-up Comedy
After all the happenings since the Coronavirus outbreak, we all need to laugh a little harder. Wouldn't it be great if you could stream a virtual stand-up comedy session on all your social media channels with Flutin this Christmas to spread all the laughter you can? Your audience can also enjoy a variety of comedians during your virtual Christmas party, which is sure to make the event a big success and ensure that everyone has a great time.

A virtual Christmas party with Flutin will be an event to remember, no matter what activity you choose. So, get your party hat on, make your arrangements and start streaming today – let the celebrations begin!
Related Topics
Join our official streaming community and get tips to improve your social presence, hacks to increase brand engagement and generate more revenue.