While the new normal of social distancing has banned physical shows and concerts, live stream events have been the alternative that has kept the dream of artists alive. To help these artists continue growing, Flutin has now added the much-awaited live streaming ticketing service. So, we bring to you everything you need to know about our ticketed live streaming platform and start selling your virtual event tickets.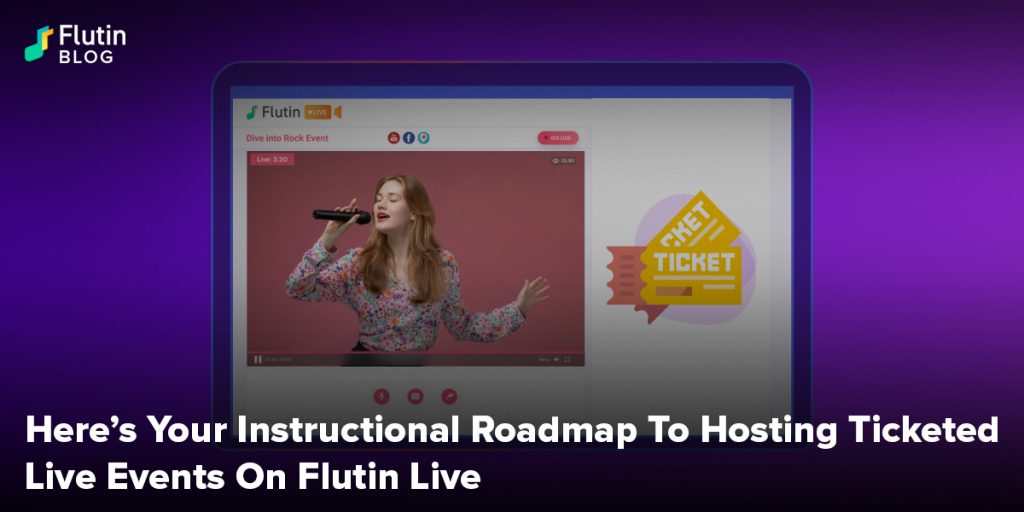 As India faces the second blow of the ruthless pandemic, live stream events are here to save the day for all artists. However, it's not just fun and games anymore. We understand that artists need to make money to support their career. That is why Flutin is now ready with the live streaming ticketing service to help artists monetize their streams. But, how do you sell your virtual event tickets? That's what we're going to talk about today.
A Step-By-Step Guide To Hosting Ticketed Live Events On Flutin
The way our ticketed live streaming platform works is incredibly simple and convenient. In just a few clicks, you will have your live stream set up and ready for your audience to buy tickets for. Here's how you do it.
Step 1: Login
The very first thing you need to do is login to your Flutin account. You can do so with Facebook or Email. If you do not have an account yet, you can always create one. It's very simple and doesn't take much time.
Step 2: Schedule
Once you're in, you can see a "Create Live Event" button on the top right corner of the page. After clicking on that, select "Schedule Event" from the dropdown. You will be taken to a new page where you must fill out all the relevant details about your event like its name, date and time, category, duration, tags and description along with an appropriate image cover. Once done, click on the "Save" button at the bottom of the page.
Step 3: Monetize

The next page is where you review your event details. Click on the "Edit" button beside the "Monetize" section. Here you will find the different monetization options for your stream. These options are 'Buy Me A Drink', 'Requests' and 'Event Tickets'. Once you turn on event tickets by pushing the button beside it, you will be asked to enter your desired amount per ticket. Enter the cost of one ticket and press on the "Submit" button below. Wait a few seconds for the ticket to be activated. Once done, you will be taken back to the reviewing page.
Step 4: Connecting
Underneath the monetization section, you will find the "Broadcast Channels". Click on the "Edit" button beside it and turn on your linked social media channels where you want your event to be streamed simultaneously.
Step 5: Publish
After reviewing it thoroughly, you can either "Save As Draft" if you still feel there might be modifications to make later or "Save And Publish" if you're sure that this is the final draft.
Step 6: Promote

Let's face it, your live stream will be headed for a disappointment if you don't spread awareness about it. Your scheduled event will be visible on your event dashboard in the "My Events" page. At the top right of the concerned event, you will find an orange "SHARE" button smiling at you. Hit that button to share your event on Facebook, Whatsapp, Twitter, Email, LinkedIn, Pinterest and Telegram. Make sure you also tell your friends to share the link around – the more the merrier. When this link will be opened by your recipients, they will have to register to your event by paying your chosen ticket amount.
And that's how you create and host ticketed live streams on Flutin. We have kept it as straightforward as it can get for both you and your audience. So, what are you waiting for? Check your calendars and start preparing to make some money off of your live streams.