Live video content is a major source of entertainment in the current world. Whether it's for learning something new, listening to music, watching sports or live shows, the pandemic has turned everyone towards this boundless medium of interaction and entertainment. Therefore, streamers have a vast global audience ready to tap into. However, they must do it the right way to ensure success. One of the ways to do that is by repurposing live streams according to the platform on which they will be sent out. Here's everything you need to know about repurposing live streams.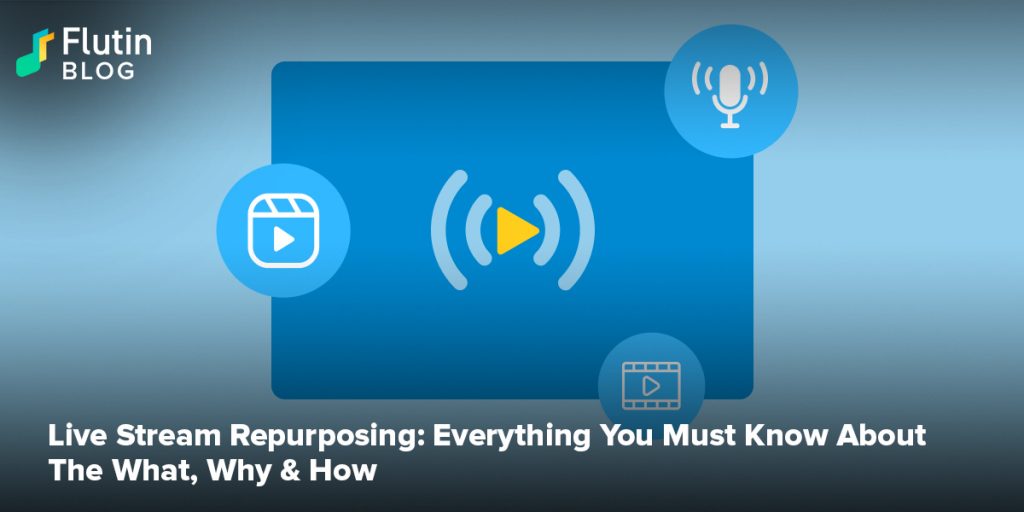 It's safe to say that live streaming is evidently the present and the future. Each day, more and more people are discovering streamers on various platforms and engaging with them. While streamers have even bigger opportunities awaiting them, they must repurpose their live streams to leverage their full potential. Here's everything you need to know about repurposing live streams.
Live Video Repurposing: What It Really Is & Why Streamers Should Do It
Live stream repurposing is essentially a form of editing – you just take a part of a stream you have already broadcasted and edit or reformat it to post on another platform. Now, you might be wondering what is the use of repurposing streamed videos.
Firstly, repurposed video content attracts and grows your audience. You essentially expand your reach by taking your content to other channels. It will also help those viewers catch up who missed your live stream. Besides, repurposing live videos is less time consuming than planning and creating new content for each platform.
Ways To Repurpose Live Streams
The live streaming industry is pretty fast-moving. You have to keep up to be successful. So, the smart way is to repurpose live streams and obtain the most value from them instead of letting them fade away. Here are a few ways you can repurpose live streams.
1. Podcasts

Millennials are big about podcasts. If you are a millennial, you must have thought of launching your own podcast at some point in your life. While you may have blamed it on the lack of time back then, your live streams are going to help you go beyond excuses. You can convert your stream into high-quality audio and launch engaging and entertaining podcasts which you always wanted. There are various tools available online which you can use to extract the audio from your streams.
2. Teasers

While it may be hard to accept, the sad reality is that not every viewer is going to make it to your live stream. You may have tried your best to stream during a time of the day when you clock the most viewers. But, people have their own lives and often have commitments they can't back out of. However, you shouldn't give up on them. Once your live stream is over, it turns into a replay video. There are various tools available which you can use to edit videos online , trim the favourite bits and turn it into a teaser.. You can post this teaser on your social media platforms to attract more audiences and keep people who missed your stream in a loop.
3. Campaign videos

Developing a personal connection with the audience is crucial for every streamer. At the end of the day, your fate lies in the hands of your viewers. Therefore, you must reach out to them instead of waiting for them to come to you. You can repurpose your live streams into various small clips and, thus, create more than one opportunity to interact with your followers. You can also use these clips to support any initiative started by you or any campaign that you are a part of.
4. Social media posts

Short videos are all the rage these days, thanks to TikTok. The platform's soaring popularity has led many other social media platforms to create their own short video strategy (like Instagram reels). Repurposing your live streams into short videos and posting them on these platforms can drive a significant chunk of the audience to your live streams.
Topic You May Like: Live Streaming Trends 2022
Repurposing live streams is truly a magic trick to boosting your virtual presence. But, in order to repurpose live videos, you first need to start streaming. Head over to Flutin to start streaming and have fun repurposing your streams after.