Flutin, the rapidly rising live streaming platform, has launched premium plans to help content creators spread their wings fully in the streaming realm. These plans come with incredibly intuitive and advanced features which are meant to not only help creators grasp every opportunity that comes their way but also help them offer a memorable experience to their viewers. From multistreaming to monetization, here are 9 reasons why Flutin Premium is simply irresistible.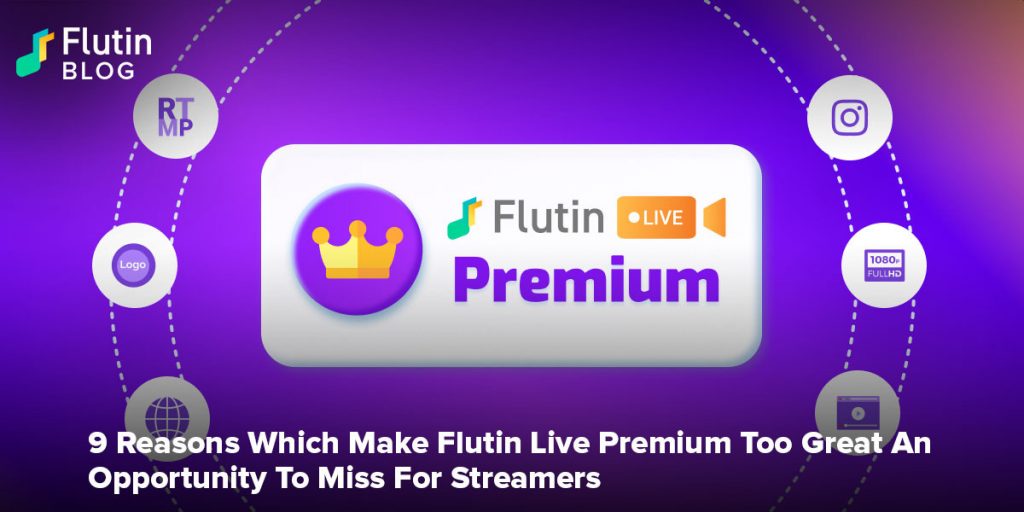 Since its inception, Flutin has been primarily focused on revolutionizing streamer experience by consistently evolving as a live streaming platform. Continuing on that line of commitment, we have launched the premium plans which are aimed at maximising the benefits streamers can attain from live streaming. Check out these 9 reasons which make Flutin a lucrative platform for new as well as established streamers. 
1. Multistreaming

You might know what multistreaming actually is by now. It's the feature where you get to stream simultaneously to multiple destinations or platforms. The benefits? You can tap the reach of each platform and, thus, maximise the chances of attracting more viewers. With the premium plans of Flutin, you can stream to upto 10 destinations at a time including the likes of Facebook, YouTube, Twitch and Instagram. 

2. Limitless Streaming
Streamers need to be regular in order to keep their viewers from turning away. While the duration of a stream depends on the content, time shouldn't be a constraint when it comes to live broadcasting. Besides, you must create a schedule of when to go live and stick to it to help your viewers know when to expect you. This is where Flutin premium comes into the picture. Our subscription plans enable you to stream as long as you want and as frequently as you want. 
3. Multi-Chat Feature

Streaming to multiple platforms simultaneously undoubtedly maximises your reach. But, what about the interaction side of it? You need to engage with your viewers to make them feel a part of the process so that they don't quit on you midway. The multi-chat feature becomes a saviour here. By displaying the chat boxes of each platform you stream to on a single screen, it helps you communicate with your audience on time without having to constantly switch between platforms. 
4. RTMP Streaming
RTMP streaming is what ensures that streams run smoothly without any latency. Many platforms support RTMP streaming for an incomparable streaming experience. Getting Flutin premium will enable you to enjoy the benefits of RTMP streaming to a maximum of 5 custom RTMP destinations at a time. 
5. No Branding of Flutin
Flutin's target has always been to help content creators get the best of the streaming world. To facilitate their streaming experience, our premium users will not see our branding anywhere on their streams. 
6. Customized Personal Branding

As an extension of the above feature, Flutin premium gives you the freedom to display your own personal logo or other forms of personal branding on your stream. This is done to ensure that you get the maximum visibility and stay longer on your viewers' minds. 
7. High Definition Streaming

With the increasing penetration and reducing cost of internet access, people prefer watching live broadcasts in high quality. Flutin premium lets you stream in HD quality (1080p). 
8. Instagram Streaming
Instagram is a platform that has billions of active monthly users. Our subscription plans let you stream to this vast platform without the need for any extra hardware or application. 
9. Monetization

We understand the importance of this aspect, especially for beginners. Apart from offering various monetization methods (like ticket sales, donations, etc.), Flutin premium lets streamers keep 90% of the revenue earned during the streams. We only charge 10% of the share as commission. 
Flutin premium is locked and loaded with all the above features and ready to be used to explore the virtual world. Head over to Flutin and get your subscription today.