For every live stream to be successful, stream quality plays a crucial role. Every streamer is very well aware that stream quality is important but, stream quality is not just about fancy backgrounds and HD video quality. Audio quality is also one major aspect of stream quality. At times viewers prefer to listen to live streams rather than viewing them. If you are struggling to improve your audio quality, using the best microphone for streaming is a solution for you. Remember to keep in mind that "video is secondary, audio is primary".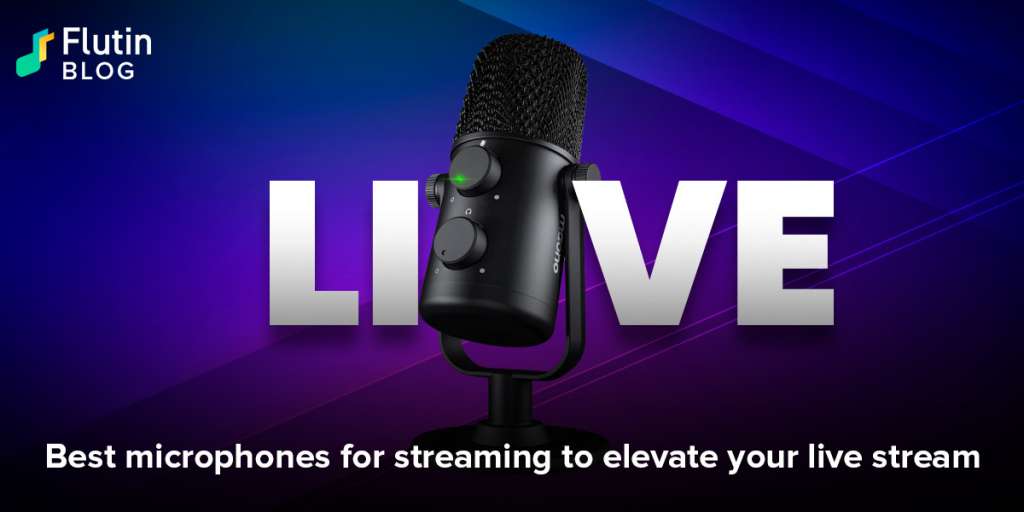 Around us, we have a bunch of companies producing and selling microphones for streaming, but they have their own pros and cons. This guide will be informing you about all the basics of microphones and will help you to choose the best mic for streaming.
What is a microphone stand?
A microphone stand is one of the microphone mounting options. It is a free standing mounting option which you can use to place your mic without having to hold it in your hand. So if you are recording a podcast or talking to your audience in a live stream, then you can use a mic stand to place your microphone. This will help you to stay concentrated towards your audience and you can make eye contact without getting distracted.
Do you really need a microphone stand for live streaming?
Audio quality is critical for successful live streaming. So for that, you require a microphone and there are many ways to ensure that your microphone delivers the best it can when it is mounted on a stand. Plus, it also reduces the exhaustion of holding your mic in hand while live streaming.
Imagine if you are a gamer and you have to use a joystick or any equipment while live streaming, in such a case you need a microphone stand while speaking anything.
What are the types of microphone stands?
There are different types of microphone stands with a variety of functions and features. You can choose the best suited stand for you using this list: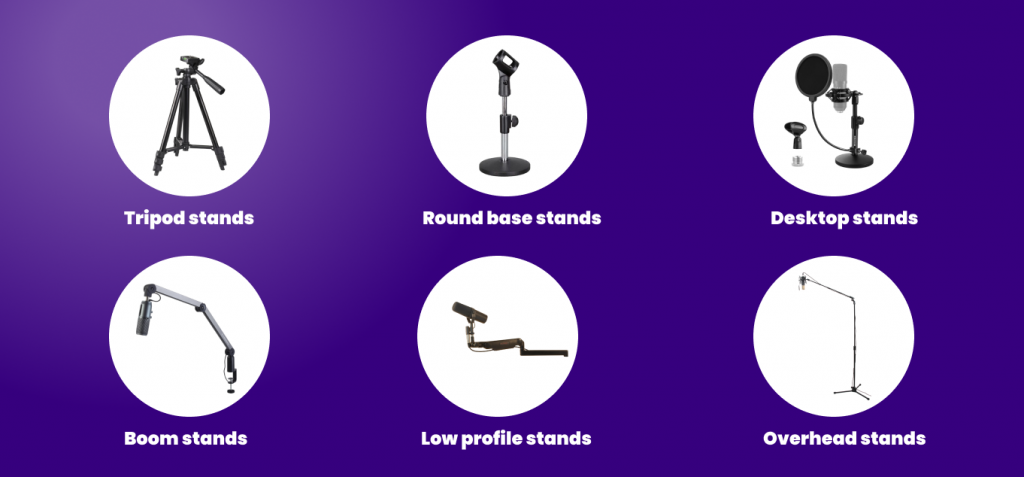 Tripod stands: Most common microphone stand, it has 3 legs which make its base
Round base stands: Another commonly used stand, it is a bit similar to a tripod stand but has a smaller footprint and is pretty heavy.
Desktop stands: Desktop or tabletop stands are made to sit on your desktop table closer to where you sit.
Boom stands: these stand on a round base or a tripod style base with an arm attached to a vertical pole that leans in to allow you to mount a microphone.
Low profile stands: These stands can be considered smaller versions of tripod boom stands. They are usually used to record sounds of instruments like kick drums, they have a short height for both the stand and the boom arm.
Overhead stands: These are one of the most expensive mic stands available in the market. They are meant to be used if you want exceptional stability. They also include a boom arm which can be extended more than a tripod boom stand.
The best microphone stands for live streaming
1. RODE DS1 desktop microphone stand
The RODE DS1 is a compact tabletop microphone stand compatible with all RODE microphones.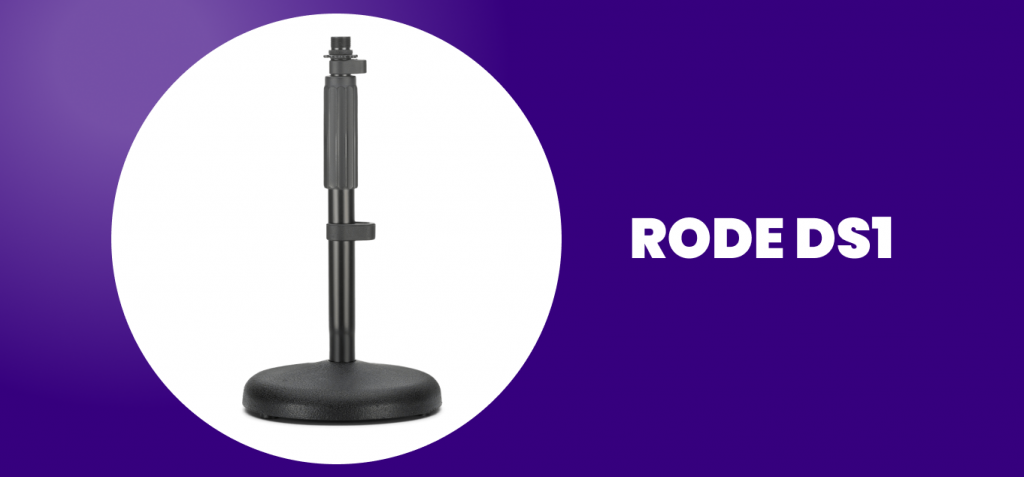 If you are using a RODE mic then make sure to use DS1 for amazing features such as microphone clips, shock mounts etc for trouble-free audio streaming. This durable product is perfect for desktop live streaming. Keep in mind to place your microphone a foot away from your mouth to get a rich warm sound.
2. RODE PSA1
RODE PSA1 has a unique parallelogram design which keeps mic direction stable as height is adjusted.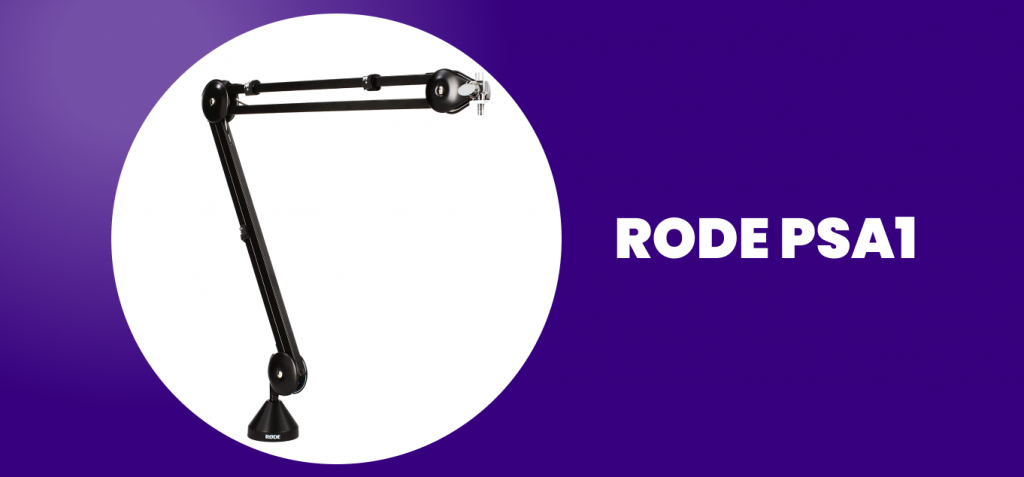 There are also internal springs that allow you to easily move your mic without any worries of noisy movements. Also, this mic comes with a threaded desk insert and desk mount clamp. PSA1 will surely give you a stressful live streaming experience without costing a fortune.
3. ON STAGE DS7200B adjustable desktop mic stand
With an adjustable height of 9"-11", this microphone stand is perfect for short heighted positioning – just as close to your live streaming setup as possible.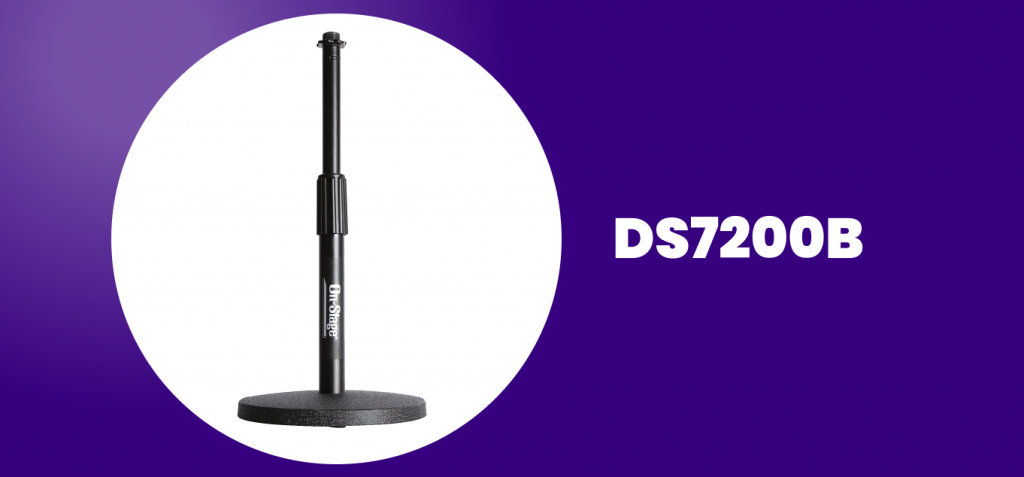 The low-profile design doesn't stand out and the removable shaft allows you to attach other accessories as well. One other great feature is that it comes apart making it travel friendly.
4. Samson MD5 desktop microphone stand
The Samson MD5 desktop microphone stand comes with a solid, die-cast metal base measuring 6.25″ in width to ensure excellent stability for any mic.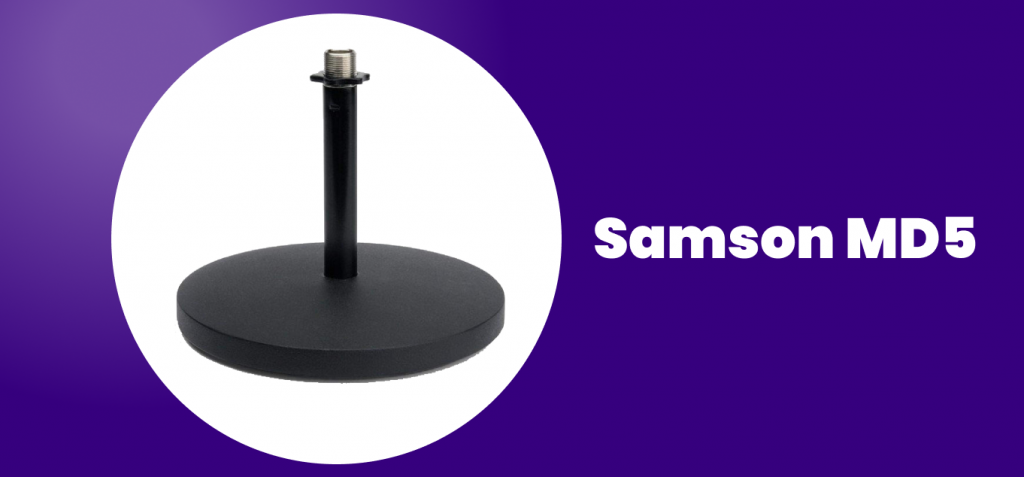 This 5″ high desktop microphone stand delivers optimal mic positioning on a desk and is compatible with most microphones.
5. Elgato wave mic arm LP
The wave mic Arm LP luxe is Elgato's top-end boom arm. And although marketed as a premium buy, it thoroughly justifies its hefty price tag.
A ball-head and tension-adjustable joints are some of its features which can impress any content creator who is looking for an exceptional mic stand.
How to choose a streaming microphone?
Here are four characteristics to consider while choosing a microphone for streaming:
Frequency response refers to the range of voice frequencies your microphone can pick. It is measured in hertz and kilohertz from the lowest frequencies to the highest. Generally, the lower standard of frequency response is 20hz and the highest is 20,000 Hz.
A polar pattern also known as directional sensitivity is the inherent sensitivity to the audio waves. In simple words, a polar pattern is the ability of your microphone to pick audio from different angles. There are three types of polar patterns :
Cardioid polar pattern: a classic cardioid microphone picks up the sound from the front. Cardioid microphones isolate unwanted sounds and noises from the back of the microphone. They are the most common choice for live streaming. Cardioid subtypes are known as super cardioid and hyper-cardioid have narrower sound sensibility angles and a greater ability to reject ambient sounds.
Omnidirectional polar pattern: omnidirectional microphones are equally sensitive to sounds, this means that they can pick sound from all directions. So, you do not have to aim at the source of the sound.
Bidirectional polar pattern: bidirectional microphones can pick up sound from both the front and back of the microphone. These types of microphones are great for live interviews as the audience can hear both you and your guests.
The two very common connection methods used are XLR and USB, but they have substantial differences. First, you cannot connect an XLR mic directly to your devices. You need an audio mixer to plug in the XLR microphone. Second, XLR cables are more durable and longer than USB cables, this makes them better.
A pop filter is also known as a pop screen or pop shield. It is used to protect your microphone from noises. It is generally used in recording studios to eliminate the popping sound of air flowing into the microphone.
Best microphones for live streaming
1. Shure SM7B : Shure is a legendary audio company that specializes in making microphones. The Shure SM7B is a professional microphone for vocalists, which makes it an excellent choice for ASMR streams. A lot of great live streamers use this microphone.
2. Shure MV7 : The MV7 is Shure's first USB/XLR hybrid, and it delivers on both quality and flexibility. It does an excellent job of eliminating noise. So if you are a streamer or a podcaster and looking for a microphone which offers a great audio upgrade, then this is made for you.
3. Audio-Technica AT2020+ – The audio-Technica AT2020+ and above models are the best and most professional microphones for live streaming. These microphones come with great audio quality and have a reasonable price, which makes them the best streaming microphone for live streaming in 2022.
4. Audio-Technica AT2005USB – The best feature of this microphone is its versatility. It can be used with XLR as well as USB cables. It can accommodate stage performances as well as live events and live streams. More and more live streamers and content creators are switching to this microphone because of its ability to block background noise.
5. Blue yeti USB – Another great option for live streaming are Blue Yeti mics. These mics produce superior sound quality as compared to other USB microphones. This mic is easy to use as it doesn't require any other stand and cables. It is considered one of the best microphones for streaming.
Let's wrap up!
Audio quality is an important aspect of better stream quality and for improved audio quality, you need a professional microphone. In this guide, we have listed all the basics about microphones and 5 microphones for streaming according to your needs. While using a microphone, you will also need a microphone stand. In that case, we have also mentioned the 5 best microphone stands of 2022 for you to stream without any distractions. More than anything your audiences prefer to hear you first – visuals come second. So, choosing the best microphone for streaming should be a priority.
Better and improved stream quality definitely guarantees more viewers. Make sure to use FLUTIN to enhance your stream quality using various features available on our website.
Related Topics:
Join our Facebook Community to get regular updates and interact with fellow streamers.
Follow us on our social media accounts: