The remix industry of Bollywood is not always on point. While there are some remixes that have done justice to their original tracks, others could have been avoided to maintain the authenticity of the actual songs. Due to such instances, many people argue that Indian pop songs have lost their creative flair. Now, we don't know the rationale behind remixing songs. What we do know for sure is that some songs are not to be tampered with. Here are some classic and iconic Bollywood songs that should stay away from the remix zone.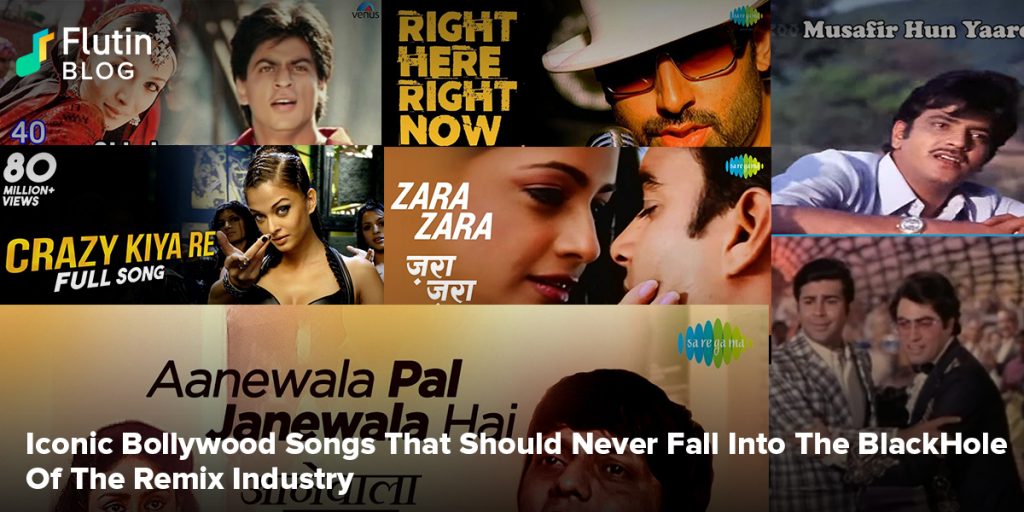 For a long time, Bollywood's remix industry has been actively recreating old classics. Don't get us wrong – remixes are not all bad. In fact, there have been Indian pop songs, which are remixes of earlier songs, that are catchier than their original counterparts. However, there are certain iconic Bollywood songs whose sanctity must be preserved at all costs. Here's a list of such songs that must not fall into the remix trap.

1. Chhaiya Chhaiya


How can you even think of bettering this masterpiece? It should be considered a sin to play with this fantastic brainchild of A.R. Rahman. If someone dares to touch this song, 90s kids would definitely start losing their cool.

2. Yaadon Ki Baaraat


The song 'Yaadon Ki Baaraat' never fails to take us down memory lane and make us shed a tear or two. No composer or singer can ever recreate the emotional tone behind this lyrical gem.

3. Right Here, Right Now


Bluffmaster came out at a time when we were shifting to the cool and swaggy era. Abhishek Bachchan rapping with his awesome personality and Priyanka Chopra killing us with her style will forever remain epic.

4. Musafir Hoon Yaaron


We had the perfect road trip track even before there was Zindagi Na Milegi Dobara and Dil Chahta. 'Musafir Hoon Yaaron' is the song that introduced the concept of road trip numbers way back in the 1970s.

5. Zara Zara


Now, many of you will say that 'Zara Zara' itself is the Hindi remake of the original Telugu track. Keep in mind though that only the language was changed from the song. If Bollywood takes it a step further and remixes it, the entire aura of the song would be ruined.

6. Aane Wala Pal


We all can relate to this evergreen number. We often look forward to the most exciting moments of life, only to have them pass by in a blink. Kishore Kumar's brilliance is better left intact as it is.

7. Crazy Kiya Re


Songs will come and go but 90s kids will never get over the fascination with this number. Be it Sunidhi's powerful vocals or Aishwarya's fierce dance moves, 'Crazy Kiya Re' is an incomparable track.
These are some of the popular and highly acclaimed songs that shouldn't be touched by Bollywood's remix trend. Find more such amazing songs on the Flutin app.