Flutin's rap talent show, HomeStars Rapchik, started on a great note by receiving entry videos of over a thousand budding Indian rappers. After many epic rap battles of the 15 best Indian rappers, we finally have our top 5 desi rappers on a lyrical race crowned as the first-ever HomeStars Rapchik winner. Read on to meet these top 5 contestants.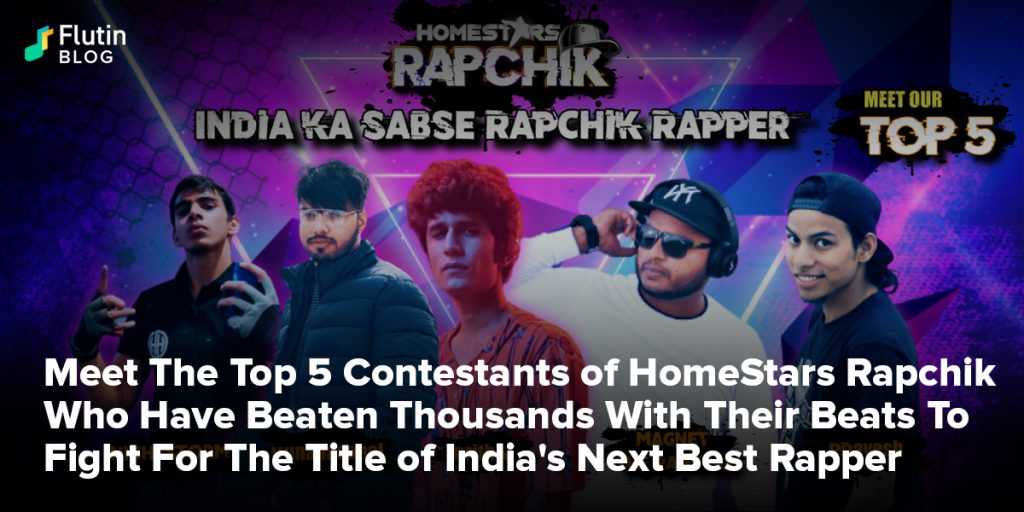 With the rise of the Indian hip-hop scene catapulted by the success of the movie Gully Boy, there was no better time to allow budding Indian rappers to show the world the power of their words. That's what HomeStars Rapchik, a rap talent show by Flutin, did for Indian underground rappers. Thousands of entry videos and many chilling rap battles later, we have our 5 best Indian rappers running for the title of the first-ever winner of HomeStars Rapchik. Let's meet these 5 desi rappers who have climbed their way up with their rhymes and rhythm.

1. Nightstorm
Originally known as Harshit Hooda, Nightstorm truly has the potential of taking the rap industry by storm. Hailing from Faridabad, rapping is not the only super talent that he has up his sleeves – Harshit is also a national level swimmer and has been swimming for the past 8 years. Taking inspiration from Kind and EPR, Nightstorm had the judges and audiences turn into his fans right from his entry video. It featured his song SCARS (a song about fighting suicidal thoughts and rising again), which also happens to be his first-ever rap.


2. PRavesh
This tax consultant from Bhopal has already become an inspiration for underground rappers to be true to their dreams regardless of where it takes you. Originally known as Pravesh Jain, he never released his first rap titled 'Ik Baar,' which he wrote in 2013. His dream is as humble as his personality. "I want to perform in front of 10,000 people with each one of them rapping along to my lyrics". And this dream has been driving him to beat all rappers that come his way.

3. PrithV
Unlike the others, Prithvi Mohan has worked as a singer, rapper, music producer, and lyricist. Inspired by rappers Divine, Raftaar, Eminem and Joyner Lucas, this Mumbai-based rapper aspires to be an entrepreneur in the music industry and a musical icon. From commercial compositions ('Shah Rukh Aur Salman') to religious raps ('Shree Hanuman Chalisa'), PrithV's versatility makes him a solid contender and an even stronger rapper.


4. Kunaaaaaaal
From a financial consultant and a CA to pursuing his rapping dreams, Kunal Jai Singhani's journey has been exciting. Being inspired by his mother to follow his heart, this Nainital-based rapper's first rap was ironically titled 'CA Banunga.' However, his goal in life is simply to leave an impact that makes the world a better, kinder and more empathetic place through his raps.


5. Magnet The Rapstar
Hailing from Buldhana, Maharashtra, Magnet The Rapstar's raps are truly magnetic to listen to. Currently working at Cognizant in the pharmacovigilance department, Shubham Wakle is inspired by all artists who do a commendable job. Talking about the show and his dreams, Magnet The Rapstar says, "I just want to create good and real hip-hop music. As an artist, this show helps me get recognition and identity and it's a big thing for a small-town boy. I just want to do music full time."

These are the five super talented and super deserving top contestants. They have a unique story and an extraordinary dream that drives them to produce lyrical magic and take the Indian hip-hop scene to another level. Tune in to Flutin's official website and social media channels to witness the upcoming raging rap battles and find out who ultimately takes India's next best rapper home.