If you have been watching Bollywood movies, then the numerous Bollywood songs included in them would be nothing new to you. However, there are certain iconic Bollywood songs that ditched the traditional 3-4 minutes format and decided to bless our ears with their seemingly endless melodies. Here are 10 of the longest Bollywood songs of all time that is definitely worth the extra minutes.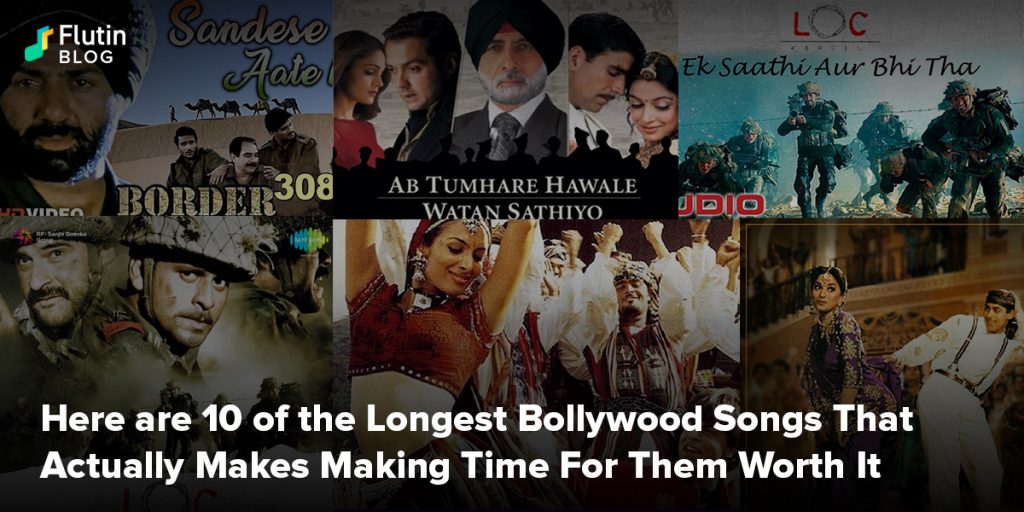 Generally, Bollywood songs last for around 4 minutes, which we listeners have pretty much gotten accustomed to. Then there came certain iconic Bollywood songs that totally had us going for way over the conventional norm, making a track lasting longer than your stamina to sing along or dance to it. Today, we take a look at 10 of the longest Bollywood songs ever to have been made for Bollywood movies. 

1. Sandese Aate Hai


This soulful song composed by Ani Malik from the movie Border is dedicated to our heroic soldiers at the border because of whom we get to live our normal lives in our own ways. Clocking at 10:40 minutes, it's one of those rare songs which our hearts yearn for to be longer.

2. Ab Tumhare Hawale Watan Saathiyo


This title track carries on for about 15 minutes. With numerous actors participating in the filming, this remains the longest Bollywood song ever shot.

3. Main Kahin Bhi Rahoon


While the first track on our list is for the soldiers, this one talks about what a soldier goes through during his time serving his nation. Composed by Anu Malik and sung by numerous artists like Sonu Nigam and Udit Narayan, it's beautiful to listen to even being 12:53 minutes long.

4. Ek Saathi Aur Bhi Tha


Yet another track composed by Anu Malik has made this list. This one, from the movie LOC Kargil, is 8:46 minutes long and pays a tribute to all the soldiers who were martyred fighting for our motherland.

5. Sunoji Dulhan


Moving on from the soul stirring patriotic tracks of Bollywood, we also have certain fun numbers if you are looking to lighten the mood. This song from the movie Hum Saath Saath Hain is a peppy track from the beginning till the end despite being 11:36 minutes long.

6. Didi Tera Devar Deewana


We're sure that you must have heard this one. After all, it's one of the biggest blockbuster hit songs of all time. The iconic dance of Salman Khan and Madhuri Dixit makes it so much fun that we barely notice that the song is actually 7:38 minutes long.

7. Chaiyya Chaiyya


We agree that this is the shortest among all the tracks in this list, clocking at 6:27 minutes. But, it's still longer than the usual Bollywood songs. Besides, we couldn't help but mention the iconic collaboration of A.R. Rahman and Sukhwinder Singh. After all, we all have dreamt of dancing on top of a train in Shah Rukh Khan and Malaika Arora style.
These might be some of the lengthiest Bollywood tracks of all time. But, they are not any less fantastic than the greatest hits of all time. While you're spending most of your time at home these days, it'd be fun to open your Flutin app and let yourself flow with the magic of these lengthy rhythms.