When it comes to live streaming, you cannot ignore the video streaming platform Twitch. With over 9 million active streamers, Twitch is arguably the best live streaming platform out there. But, what makes it the most popular choice for streamers? How can you start streaming on Twitch? How does Flutin Live make streaming to Twitch easier and more convenient? Read on to know everything about Twitch streaming.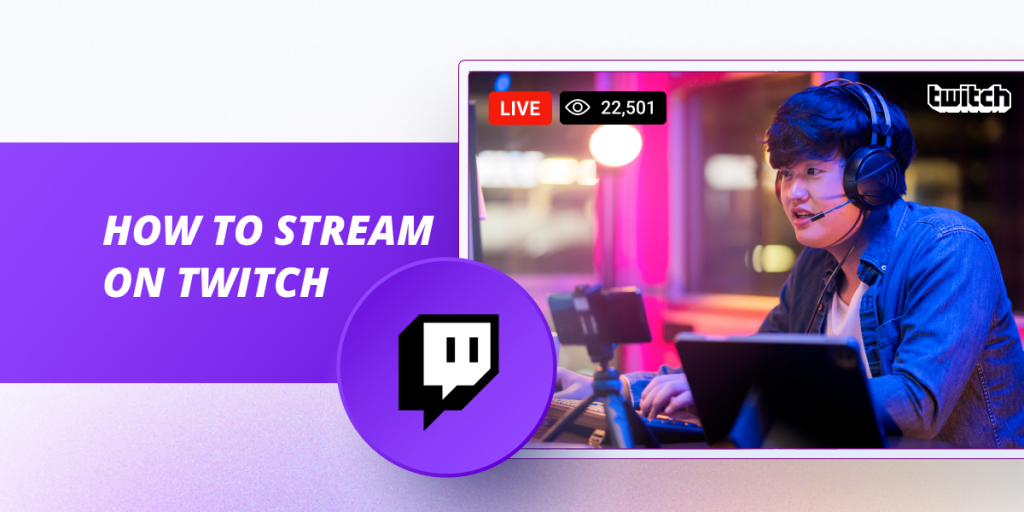 Twitch is often referred to as a streamer's paradise. Whether you want to stream any kind of performance or your gaming sessions, this video streaming platform is the place to be. For the year 2020, Twitch had a whopping 67% share of the total hours of video content watched worldwide as opposed to YouTube having just 22% and Facebook having 11% of the share. Based on these statistics, one can say that it is the best live streaming platform currently and they won't be wrong. Today, we take a closer look at the basics of Twitch streaming.
Basic Requirements For Twitch Streaming
The right hardware and software are crucial to streaming on Twitch. Here are the basic requirements listed by Twitch for streaming.
Solid internet connection : Streamers ideally use an Ethernet connection due to better speed and stability. However, you can also make use of Wi-Fi but you must ensure that the connection is as secure and fast as possible.

Broadcasting software : This can get a little complicated but we'll try to keep it simple for you. The easiest software for streaming on Twitch is Twitch's studio app which is compatible with Windows systems. If you don't have a Windows system, there are alternative software that you can explore.
Hardware : Twitch enlists certain hardware as recommendations for smooth streaming. These include a solid gaming PC (for gaming streams) or a medium range laptop, audio mixing interfaces, microphones, camera and proper lighting.
These were the very basic requirements to ensure a smooth streaming experience.

Building Your Twitch Channel
It's needless to say that you must have a Twitch account. And after your twitch activate and your live stream setup, you need to decide what your content is going to be about, why viewers should look forward to your videos and communicate the same with your followers. Although Twitch is primarily popular for gaming, the other options are still open. Make sure to interact with your followers and keep them engaged with your broadcasts.
How Flutin Helps
Flutin offers an amazing feature that makes streaming to Twitch incredibly easy – multistreaming. Here's how you can stream to Twitch via Flutin :
Login to your Flutin account and schedule your upcoming event in the "Create New Event" section.
Give an attractive description, cover picture, event name and tags to intrigue people and make them look forward to your event.
Go to the "Broadcast Channels" section and add Twitch among other platforms like YouTube and Facebook, Instagram, Linkedin (if you want to) to stream simultaneously.
Publish your event, share it with everyone you know and ask them to do the same.

On the day of your event, your stream will be automatically broadcasted to your chosen channels including Twitch. Thus, you'll be reaching out to viewers of each platform instead of making them leave their preferred platform to come check your show out.
Twitch is the place to be if you want your personal brand to grow and gain more viewership. Just focus on making your content interesting and promoting your stream and Flutin will take care of the rest for you.