In this era of social distancing, live streaming tools have enabled people to stay connected together across the world. Whether it's watching popular Netflix series together, dancing to groovy beats together or gaming together, live streaming has truly taken over as a leading source of engagement. Therefore, we take pride in announcing the launch of our live streaming tool Flutin Live on AppSumo. Check out more details here.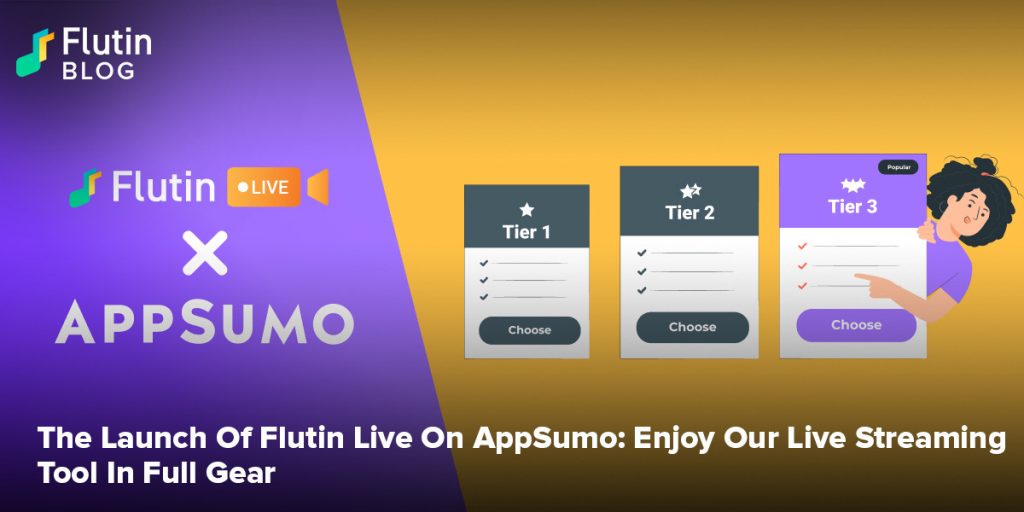 Flutin Live started its journey as a live streaming tool with a simple yet powerful goal – to help each and every content creator find his or her own place in this industry and embrace their true passion. We take pride in the fact that we have stuck by our philosophy and continue to strive towards offering each and every creator the platform he or she deserves. In this quest, Flutin Live has come a long way and we are glad to announce its grand step forwards as it has been launched on AppSumo. Here's everything you need to know about Flutin Live features and the various plans which you can enjoy.
Flutin Live Features – The Perfect Tools to Maximize Reach

With the growing number of streamers, content creators today need to shine bright in their own unique light to stand apart from the crowd. While much of this light comes from their content and their way of presenting it to the audience, one cannot ignore the major role that a live streaming platform and the features it offers to play in determining the success of a streamer. This is precisely why Flutin Live features have been carefully curated by experts to offer the best of the best for our users. Here are the state of the art features that one can enjoy on our platform.

Multiple Monetization Methods

Nothing can be a greater source of motivation for content creators to keep enjoying what they are the best at than earnings. Flutin Live lets its creators earn significant revenue in a bunch of different interesting ways. For starters, your viewers can donate money by buying virtual drinks. You can also sell tickets to your shows and earn money via paid requests wherein viewers give you money to have their requests pinned for you to easily notice them and grant them their wishes – a happy scenario for all parties involved.

RTMP & High Definition Streaming

Viewers are not going to stick around if your stream buffers a lot and is low quality. With advancing technology, people these days prefer to watch everything in high definition. This is ensured by Flutin Live's RTMP as well as HD streaming features. You can stream not only in high quality but also smoothly.


Personalized Streaming

Flutin Live understands the need for creators to be authentic in this challenging environment when viewers have millions of streamers to choose from. Therefore, it allows you to attract and retain an audience by making a lasting impression on them. This can be achieved by displaying your own customized logos, overlays and video captions on your streams. We basically let you use our platform to truly own your streams and everything that comes with it.

Multi-stream & Multi-chat Features

Nowadays, people are widely spread over social media platforms. Some spend the majority of their content viewing time on Instagram while some prefer YouTube or Facebook. To help you offer maximum convenience to your viewers and gain a vast reach, Flutin Live's multi-stream feature lets you enjoy the best of not both but all the worlds. You can stream simultaneously on all the leading streaming platforms apart from Flutin Live itself like Facebook, Twitter, Instagram, YouTube, Twitch, etc. Well, you might be wondering that while this opens huge doors for reach, audience engagement on multiple platforms might get tedious. We have a solution for that as well. The multi-chat feature displays all the comments on a single screen for you to focus on your stream and not miss a single opportunity to interact with your viewers.
Flutin Live Plans – Multi-Tier Plans for All Kinds of Creators

Flutin Live has various kinds of plans on Appsumo for all types of creators, starting from the lower ones for beginners to enjoy and gain traction in the virtual world to the higher ones for streaming like a true professional and offering unmatched experiences to viewers. But, before we get into those plans, here's a quick brief of everything that you should know:

Buying any plan will get you lifetime access to Flutin Live and the features that come along with the particular plan.
You will be notified about all future Premium Advance Plan updates.
There's no code or stacking involved – you can freely choose a plan of your liking.
After you have purchased a plan license, you will be required to activate it within 60 days of such date of purchase to avoid it getting cancelled.
You will be able to upgrade or downgrade your plan anytime.
If you are not happy with our services, we offer a 60-day no questions asked money-back guarantee.
The two features that are included in all plans are customized logo displaying and HD (1080p) streaming. Here are more details about the three plans.


License Tier 1

This one-time purchase plan comes with the following features apart from the two mentioned above:

Up to 75 hours of streaming per month
Up to 2 guest invites
8 total channels
3 Instagram and RTMP channels each
10% commission on tickets and instream revenues
4 hours of prerecorded scheduling per month
Up to 12 GB of storage
License Tier 2

License Tier 2 includes the following (apart from the two mentioned above):

Up to 200 hours of streaming per month
Up to 5 guest invites
16 total channels
6 Instagram and RTMP channels each
8% commission on tickets and instream revenues
8 hours of prerecorded scheduling per month
Up to 24 GB of storage
License Tier 3

Following are the features it comes along with, apart from the two stated above:

Unlimited streaming hours per month – stream whenever and however long you like
Up to 10 guest invites
32 total channels
10 Instagram and 9 RTMP channels
5% commission on tickets and instream revenues
16 hours of prerecorded scheduling per month
Up to 48 GB of storage
Flutin Live is truly revolutionizing the boundaries of quality streaming and breaking ground as an emerging streaming platform offering the best of features to its users. Head over to Flutin Live to rediscover the joy of streaming today.