It's no secret that the music industry is insanely competitive. However, there are certain self-made Indian singers who have broken all boundaries and shattered all obstacles along their way to becoming some of the most famous singers in the country. Today, we're going to take a look at the journeys of 10 such self-made singers who inspire budding artists to chase their dreams.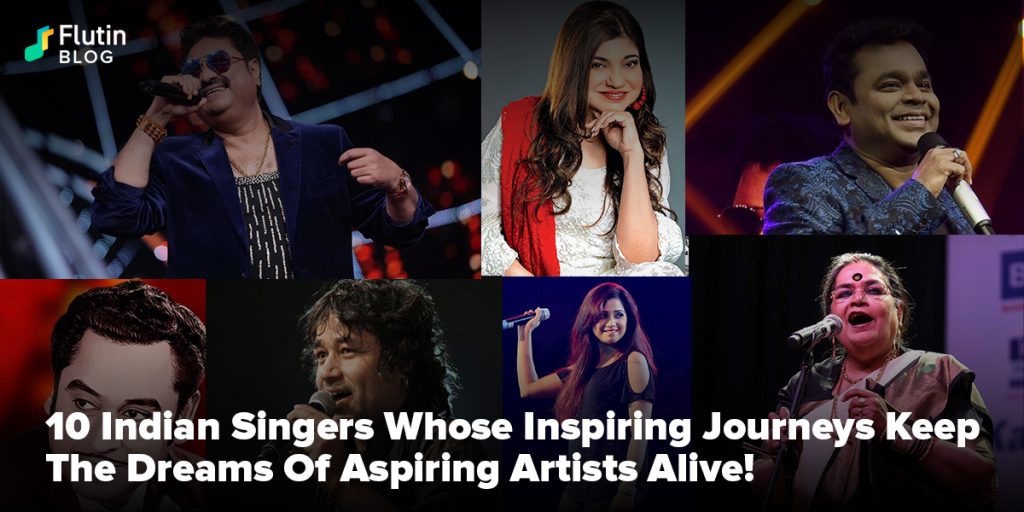 India is enriched with mind-blowing talents in all its corners. We are sure you know numerous Indian singers who have redefined the art of singing with their unfathomable potential and exemplary work. However, do you know their stories of how they made it to the top? Here's a brief of the inspiring journeys of 10 famous Indian singers which will motivate you to never give up on your dreams. 
1. Kailash Kher
Kailash Kher is one of the most inspiring self-made singers of our country. He left home at the age of 7-8 in search of a guru and learned music from around 15 teachers. During his struggling days, he used to spend the night at cheap residences, hostels, and railway stations. His first big break was the song "Rabba Ishq Na Hove" from the movie Andaaz. 
2. A.R. Rahman
Losing his father at just 9 years of age, Rahman used to rent out his father's musical equipment to earn a living for his family. His first big break was the movie Roja and today, having received two Academy Awards, Rahman is the pride of our nation. 

3. Usha Uthup
Her unique voice and powerful notes make Usha Uthup one of the most sensational and famous singers of India. However, this unique voice of hers was the reason she was thrown out of music class in school. She used to sing at a nightclub in Chennai called Nine Gems where her talent was recognized by Shashi Kapoor and Navketan unit, landing her first break in the movie Hare Rama Hare Krishna. 
4. Sonu Nigam
Sonu Nigam is one of those Hindi Indian singers who were born to be a singer. He started his singing career at just 4 years of age. His first performance was of the song "Kya Hua Tera Wada". Trained by Hindustani classical singer Ustad Ghulam Mustafa Khan, he became a playback singer for the first time in the movie Janam. 

5. Kishore Kumar
Kishore Kumar used to spend his childhood days on the sets with his brother Ashok Kumar. Even though he began as an actor, his singing potential was first recognized by R.D. Burman. Despite any professional training, Kishore Kumar became one of the best Indian singers of all time. 
6. Shreya Ghoshal
Shreya Ghoshal started her musical training at the age of 4. Her talent was recognized by the mother of director Sanjay Leela Bhansali when she was 16 years of age and won the singing reality show Sa Re Ga Ma. She made her debut as a playback singer in the movie Devdas. In fact, she is the first Indian singer who has her wax figurine in Madame Tussauds Museum. 
7. Udit Narayan 
Born to a father who was a farmer and a mother who was a folk singer, it was his mother who inspired Udit Narayan to become a singer. He used to sing at hotels and cultural gatherings before shifting to Mumbai to learn classical music where he landed his first break for the movie Unees Bees. 

8. Alka Yagnik
Alka Yagnik also started singing at the age of four. Her first-ever teacher was her own mother, Subha Yagnik, who was a trained classical singer. She was already singing in AIR Kolkata when she was 6 years old and went to Mumbai to pursue her dream of becoming a child singer at the age of 10. She was just 14 years old when she landed her first break in the movie Payal Ki Jhankaar, and the rest is history. 
9. Kumar Sanu
Kumar Sanu was born in a financially poor family. He recalls times when he didn't even get to eat a single meal per day. Today, he's one of the most popular Indian singers and holds the Guinness Book of World Record for the maximum number of songs recorded in a day – 28. 
10. Neha Kakkar
Neha Kakkar's journey from being born in a one-bedroom apartment where her entire family used to live and owning a lavish bungalow in Rishikesh is truly proof of the fact that dreams do come true. She was first spotted in the second season of the singing reality show Indian Idol following which she released her own album.

The collective journey of these brilliant singers proves that if you really strongly believe in something, no hurdle will be big enough to stop you from achieving it. Install the Flutin app and listen to the songs of these singers for free to hear what real dreams sound like.