Along with legendary films and irreplaceable actors, Indian cinema's golden era is also marked by veteran Bollywood singers who offered an equally impactful contribution in making the black and white era a truly remarkable and unparalleled one. Let's take a look at 7 such singers whose old Hindi songs are still capable of topping every chart out there.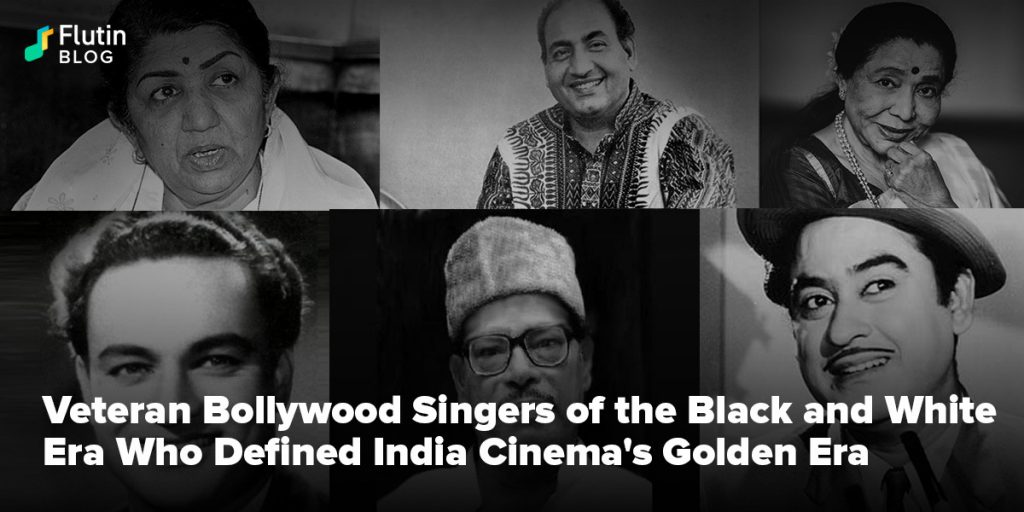 Whoever came up with the phrase "Old is gold" wasn't kidding. The soulfulness and charisma of old Hindi songs can still send shivers down our spine and make us feel an incredible range of emotions. The credit undoubtedly goes to veteran Bollywood singers who transformed each song into lyrical magic and gave the black and white era an unbeatable signature mark of excellence and aura. Let's take a look at 7 such legendary singers who carried Indian cinema's golden era on their talented shoulders and made it grander than anything Bollywood has seen. 
1. Lata Mangeshkar 
The 'Melody Queen' and the 'Nightingale of India is notably one of the best singers (if not the best) Bollywood has ever had. Her mesmerizing voice whose range extended over more than three octaves endowed us with numerous beautiful songs like 'Lag Jaa Gale', 'Aaja Re Pardesi', 'Pyar Kiya Toh Darna Kya', and the list goes on and on. 

2. Asha Bhosle
While her sister Lata was globally known for soulful melodies, Asha Bhosle has a more diverse profile. From romantic and sensuous songs (like 'Oh Mere Sona Re', 'Aiye Meherban', etc.) to peppy cabaret numbers and ghazals, qawwalis, folk songs, bhajans and more, there isn't any genre that she couldn't completely rule. The two sisters truly provided the color to the Bollywood golden era. 

3. Kishore Kumar
Kishore Kumar tops the list of the most popular Bollywood singers of all time. He was widely acknowledged for his risk-taking capabilities to experiment and come up with unique masterpieces like 'Mere Mehboob Qayamat Hogi', 'Aake Seedhi Lage', 'Children Chil Chilla Ke' and countless more.  

4. Mohammad Rafi
Arguably the greatest playback singer of all time, Mohammad Rafi, marked Indian cinema's golden era with his genius in varied music styles. Be it romantic numbers, sad songs, patriotic tunes, qawwalis, or any other style, Rafi turned each song into truly unforgettable songs. While it would require a whole article to do justice to these singers' creations, some of Rafi's notable work includes 'Diwana Hua Badal', 'Khoya Khoya Chand', 'Teri Bindiya Re', and so on. 

5. Manna Dey
Manna Dey was an internationally acclaimed playback singer who credited Bollywood with some of the most iconic songs of all time. His numbers like 'Pyaar Hua Ikrar Hua', 'Ek Chatur Naar', 'Ketaki Gulab Juhi', and others never fail to mesmerize anyone listening. 

6. Hemant Kumar
Hemant Kumar is another legendary playback singer whose songs dominated the 50s and 60s era. The track 'Yeh Raat, Yeh Chandni Phir Kahan' was the one that cemented his position as a solid playback singer in Bollywood. He went on to sing lyrical wonders like 'Man Dole Mera Tan Dole', 'Tum Pukar Lo', and others that still move us to our very core. 

7. Mukesh
Mukesh is yet another acclaimed playback singer of Bollywood whose talent and genius are talked about to this day. He was rightly given the nickname 'The Man With The Golden Voice' and his songs truly justify it. Some of his unforgettable hits include 'Tu Kahe Agar', 'Jhoom Jhoom Ke Nacho Aaj', 'Aaj Kahin Dil Kho Baithe' and 'Toote Na Dil Toote Na'. 

Though numerous other Bollywood singers gave us evergreen hits, these were the most notable ones whom Indians can never forget. Install the Flutin app to treat your ears with their old Hindi songs for free and experience the magical genius in these singers' voices for yourselves.