To offer Indian underground rappers all over the nation a shot at proving their talent with their words, Flutin organized a virtual rap talent show "Homestars Rapchik" to give these Indian rappers the platform that they have long deserved. After going through thousands of entry videos, our judges have finally selected the best of the best. Find out the 15 best Indian rappers who are about to show the world what they've got.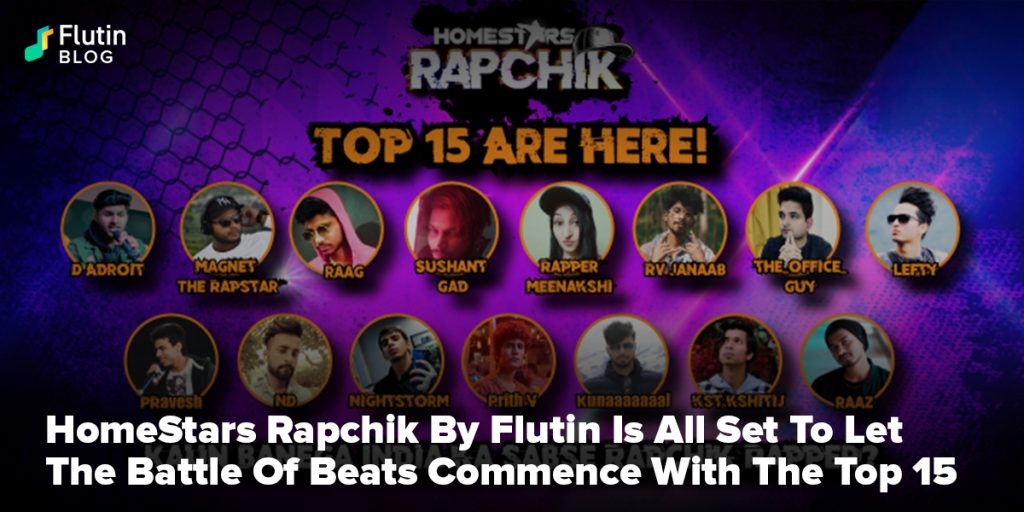 The Indian hip hop scene has seen tremendous progress in recent years, especially after the love and recognition garnered by desi rappers like Naezy, Emiway, Divine and many more. Making it in the music industry is more than a Herculean task, especially for Indian rappers. The nation has just begun to accept rap as a part of their musical identity. To give talented Indian underground rappers across the country a fair shot at success, Flutin has organized a virtual rap talent show – HomeStars Rapchik. Here's all you need to know.

Catch up with Rapchik!

To start with, aspiring rappers all over India were asked to submit their entry videos, featuring them rapping their original composition on Flutin's official website. We were pleasantly surprised to receive videos from thousands of talented budding rappers with the potential to drop beat bombs everywhere. However, only 15 rappers could progress to the next stage of the competition. Each video was carefully analyzed on various parameters by our jury consisting of RCR, Misty Bharadwaj, Sukhbir Singh and Rajiee M Shinde. After careful consideration, the 15 best Indian rappers have been selected to battle it out on the musical grounds.

Meet the Rapchik Rappers!

Dying to know who the top 15 Indian rappers are who beat thousands of others with their insane rapping skills? Here they are:

D Adroit
The_office_guy
Nightstorm
Rapper Meenakshi
Raaz
ND
PRavesh
Magnet The Rapstar
Raag
Prith V
Lefty
RV Janaab
Sushant Gad
Kst Kshitij
Kunaaaaaaal
These 15 top contestants have all it takes to wow the nation with the rapping tricks up their sleeves. Trust us when we say that you don't want to miss out on the battle of beats that are going to be broadcasted live on Flutin's Homestars official website and its official social media channels. Catch the first episode live on 22nd August from 7 pm onwards to witness the lyrical magic that we are talking about. 


Get ready to hold your breath along with the rappers! 
Catch the action live and vote for your favorite rappers on Flutin's website to save them from elimination and see them rise and shine to grab the Rapchik crown. The winning contestants will be prized with all – from up to ₹1 lakh worth of cash prizes to launching their rapping career with Flutin. Believe us when we say that in this rap battle, it's not going to be just the contestants holding their breaths – you are in to see world-class talent like you've never seen before. So, tune in to the official website and social media channels to stay updated and watch the first episode on 22nd August to be a part of this legendary competition!