With the new year right around the corner, you must be wondering what resolution to set for yourself. Well, we have the right one for you – live streaming. If you are an emerging artist, this is the perfect time to take over the internet with live streaming platforms flourishing with opportunities and people tuning in to watch live content more than ever. Still not convinced? Here are 21 live streaming statistics that would make you go live by the time you're done with it.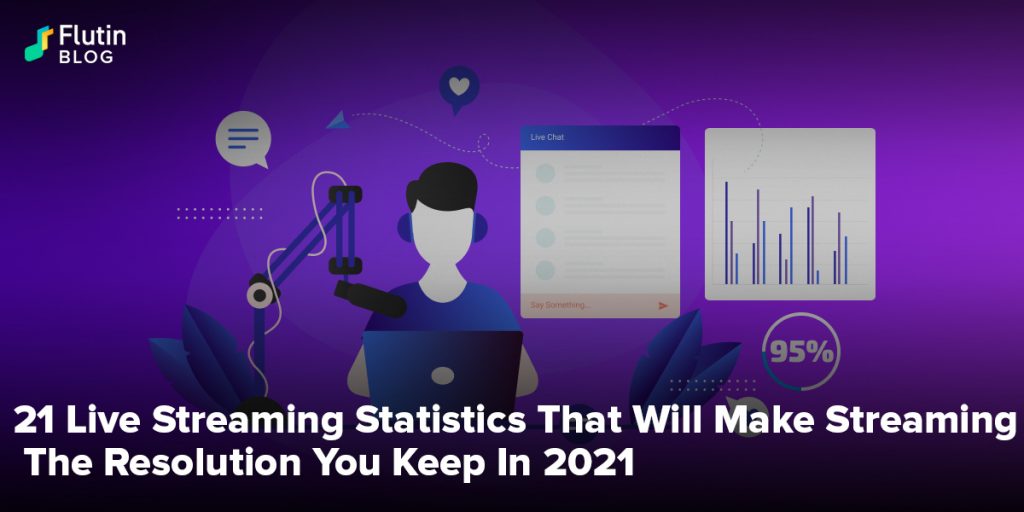 Live streaming platforms have taken over the world and budding artists are gifted with an incredible opportunity to present their talent in front of the whole wide world. There has never been a better time to go live. Don't believe us? We've got streaming stats to prove our words. Here are 21 live streaming statistics that will make your 2021.
1. People's preferences when it comes to content consumption is changing. On average, the time spent by 18-34-year-olds watching conventional TV came down by 15.3%. It also reduced by 8.7% among 35-49-year-olds.

2. When streamers themselves were asked about their choice of entertainment medium between TV and YouTube, 95% of them picked the latter.


3. Audiences are also becoming more adventurous and willing to experiment. About 35% of people belonging to 18-34 years of age enjoy watching something new and different.
4. The number of TV viewers is decreasing drastically. Around 58% of people have given up their cable subscriptions and switched to streaming platforms.

5. The amount of time spent watching online video has increased by 52% from 2018 to 16 hours per week.

6. Twitch set a world record for the most number of hours watched in October 2020 – 1.6 billion. That is a 99% increase from the figures of last October.

7. Facebook wears the crown among all streaming platforms – it reached 2.7 billion monthly active users in the second quarter of 2020.

8. YouTube rides close behind with 2.3 billion active monthly users worldwide in 2023. (Source: Viralfyt.com)

9. During the initial stage of lockdown from March to May this year, Facebook saw its viewings increase by 239% and Twitch by a whopping 267%.

10. 82% of people on Facebook claimed that they would rather watch online videos than reading posts.

11. YouTube claims that mobile video watching is increasing by 100% every year.

12. On average, the global download speed increased by 34% from 2019 to 85.73 Mbps over fixed broadband.

13. The live streaming industry saw a growth of 99% from April of last year to April of this year.

14. Experts claim that live video will likely grow 15-fold in the next couple of years and acquire a 17% share in overall web traffic.

15. The global market of live video streaming is expected to reach around $184 billion in the next seven years, while it is projected to cross $70 billion in 2021.

16. According to a survey, 75% of the respondents claimed that the pandemic led them to increase their live streaming investments this year.

17. The 5G network is expected to cut latency by 10x.

18. Individuals and organizations who use video streaming features see a 49% faster growth in their revenue figures than those who don't.

19. The Facebook Live broadcasts saw a growth of around 300% in their daily watch time in a year.

20. Live stream videos were viewed by almost one-third of China's total internet users in the first half of this year.

21. More than half of the people surveyed expect live streaming to replace offline completely, in-person shows and events in the near future.
The live streaming industry is seeing tremendous growth and this is all just the beginning. These 21 streaming stats for 2021 prove that fact and an indicator for you to grab your camera and microphone and get ready to stream in the coming year.
Install the Flutin app to get your playlist ready today!