Flutin has been on a constant roll when it comes to making live streaming better and more fun for streamers as well as viewers. This time, as part of its fabulous Black Friday deal, Flutin has launched its lifetime deal. Users can now enjoy the platform's plethora of intuitive and innovative deals for a lifetime, thanks to its Saas lifetime deal. And if you are a budding streamer who hasn't heard of Flutin before, you are about to discover a dedicated streaming partner for life. Read on to discover more about Flutin and its blockbuster lifetime deal.

It's never been easy to generate and distribute content. It's especially challenging for new creators and artists to reach the right audiences. Flutin does a marvelous job of reducing the gap between content creators and their target audiences. Consequently, Flutin offers content creators a platform for creating, promoting and monetizing their content. And that platform is Flutin, laden with numerous advanced features that are meant to make a streamer's journey interesting, enjoyable and fruitful. In its attempt to give content creators the tools they deserve to make their marks in the streaming world, Flutin has launched a lifetime deal that allows its users to enjoy its perks for life. If you haven't heard of Flutin or its latest buzzing Black Friday deal, you have come to the right place. Let's take a look at what Flutin is, what its Saas lifetime deal is and how it will help you as a streamer to reach your goals.
Go To Flutin Lifetime Deal
Flutin: What is it?
The Flutin platform, like many other live streaming platforms, allows users to broadcast their talents and businesses globally. Additionally, Flutin offers many useful features designed to help streamers make the most of their time on its platform, making it unique among multiple streaming platforms on the market. Paid users have access to multiple subscription options including additional benefits. Choose a plan that suits your budget and take advantage of all the features the platform offers. Users of Flutin, however, have access to several exclusive features that set it apart from the competition. These features range from multistreaming and stream monetization to video customizations, pre-recorded video streaming, RTMP streaming and much more. And as a part of its latest lifetime deal, you can enjoy all such features for life.
What is the Flutin SaaS lifetime deal?
Flutin's latest launch, its lifetime deal, is creating quite the hype in the market and has streamers over the moon for all the good reasons. The deal comes in three parts: Tier 1, Tier 2 and Tier 3 lifetime plans. Before we jump to see the exclusive features that you can enjoy on Flutin, let's take a look at the different lifetime plans that Flutin has to offer and the benefits of each one.
Features Included in All Plans
Custom Logo & Branding
On-Screen Comments & Captions
Unified Chats
Zapier & Pabbly Integration
Screen Share
Custom Overlay, Background, Tickers
Featured Comments
Non-Expiring Events
Live Webpage
Live Stream Monetization
Record & Download Stream
Playlist Streaming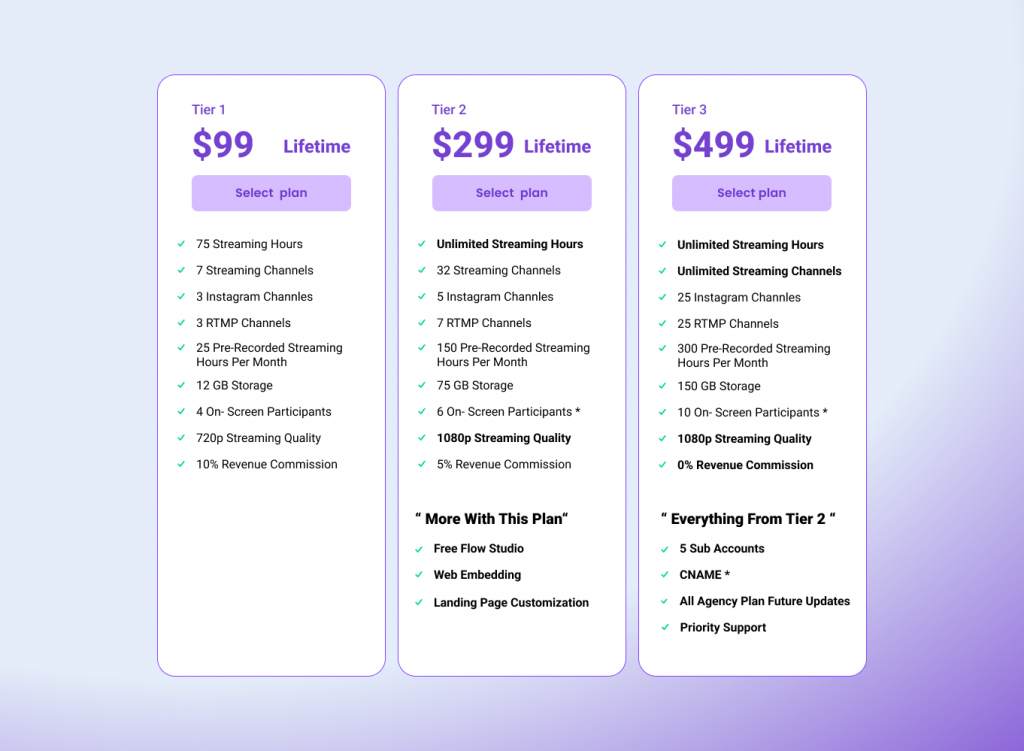 1. Tier 1 Plan
This is the most basic form of lifetime plan that Flutin offers for just $99. Here are the features of this plan which you get to enjoy for life:
Streaming up to 75 hours per month
Connecting up to 7 different streaming channels
Connecting up to 3 Instagram channels
Connecting up to 3 RTMP channels
Streaming pre-recorded videos of up to 25 hours per month
Saving and storing videos up to 12 GB
Inviting up to 4 on-screen guests or participants
Streaming in 720p quality
Paying only 10% as revenue commission
2. Tier 2 Plan
The Tier 2 plan is a step above the Tier 1 plan. While this costs $299, the features of this plan are definitely worth more. Here's what you can enjoy under this plan:
Streaming for unlimited hours
Connecting up to 32 different streaming channels
Connecting up to 5 Instagram channels
Connecting up to 7 RTMP channels
Streaming up to 150 hours of pre-recorded videos per month
Saving and storing up to 75 GB worth of videos
Inviting up to 6 on-screen guests or participants
Streaming in 1080p quality
Paying only 5% as revenue commission
Enjoying Free Flow Studio
Enjoying web embedding
Customizing the landing page
3. Tier 3 plan
The Tier 3 plan is the ultimate plan to have if streaming is your passion and you intend to pursue it professionally. At just $499, the plethora of features you get to enjoy are too good to be true, but it is true. Those features include the following:
Streaming for unlimited hours
Connecting unlimited streaming channels
Connecting up to 25 Instagram channels
Connecting up to 25 RTMP channels
Streaming up to 300 hours of pre-recorded videos per month
Saving and storing up to 150 GB worth of videos
Inviting up to 10 on-screen guests or participants
Streaming in 1080p quality
Paying 0% as revenue commission
Enjoying Free Flow Studio
Enjoying web embedding
Customizing the landing page
Having 10 sub accounts
CNAME
All agency plan future updates
Enjoying priority support

What can you do with these features?
The amazing host of features offered by Flutin is truly mind boggling. But you might be wondering what some of these features could really do for you. Here's a breakdown of some of the most intriguing features of Flutin and what you can do with them.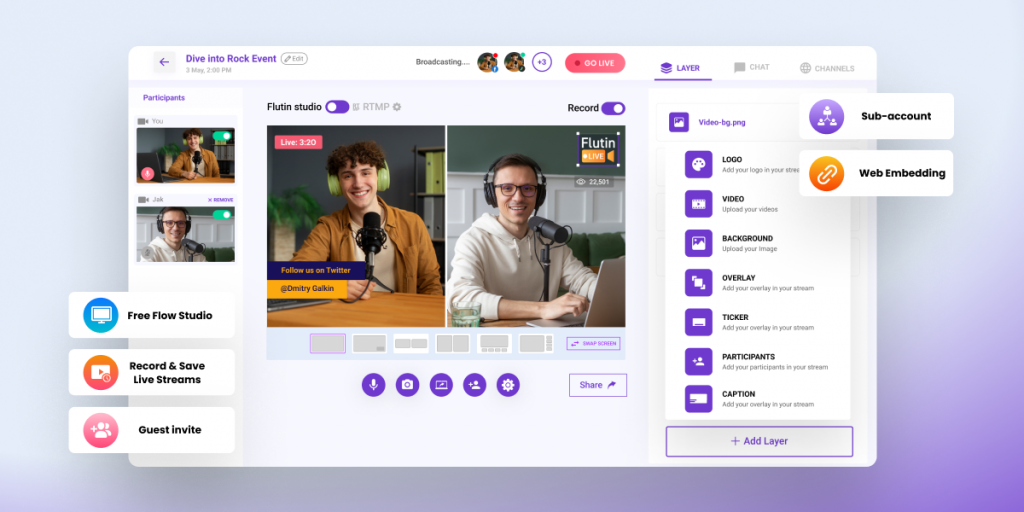 1. Free Flow Studio
Free Flow Studio is a fantastic concept introduced by Flutin. Under this feature, you can add several layers of images, videos, logos, gifs, overlays, etc. anywhere above your live video screen. You are free to move these elements anywhere you want on the screen, resize them or even rotate them. This allows you to put your creative cap on and have fun making your stream appear way more interesting and enticing.
2. Sub Accounts
Multiple sub-accounts can now be maintained under your primary account, adding to the list of Flutin's intuitive features. Streamers with many clients or subordinates will especially appreciate this feature. For instance, if you own a brand which offers multiple product categories, you can maintain a sub account for each such product category under the primary account for your umbrella brand. You can then stream from the sub account of that product category for which you have important information to share or simply for promotion purposes.
3. Zapier & Pabbly Integration
The Zapier platform houses more than 4,000 apps in one place. Flutin has teamed up with Zapier to enhance its streaming experience for the ultimate boost in viewership for streamers. Flutin can, for instance, be connected to your mail chain so that all your subscribers are notified the moment you go live. The Pabbly integration, on the other hand, will take care of everything from email marketing and subscription billing to form builder and email verification.
4. Guest Invite
With Flutin, you can invite guests on your stream and use the screen sharing feature so that they are visible to your viewers. This works especially great if you are holding a debate, discussion or podcast. You can also invite seasoned experts to speak about topics which interest you and your audience.
5. Web Embedding
Is your website underutilized and you're worried about its performance? Embedding live streams on your website is now possible with Flutin. In addition to being a powerful feature for attracting visitors, this also helps you increase lead conversion rates.
6. Record & Save Live Streams
Flutin lets its users record and save live streams in their accounts. The saved streams can be found under the 'Video Library' section and later repurposed for further promotion.
7. Schedule Events in Advance
It is also possible to schedule and publish events using Flutin. You only have to provide relevant event details and schedule the event. This gives people time to mark their calendars and keep their schedule free to watch your stream. The event link can also be shared on social media channels.
Live streaming is gaining more and more popularity. Flutin could be a great platform for you if you want to gain attention or are looking for a way to reach more people. To get started, select a lifetime deal that meets your needs. Flutin will handle all the trivial details in the background.
Join our official streaming community and get tips to improve your social presence, hacks to increase brand engagement and generate more revenue.